Home
About Us
News & Stories
Terps Touring Alaska
Terps Touring Alaska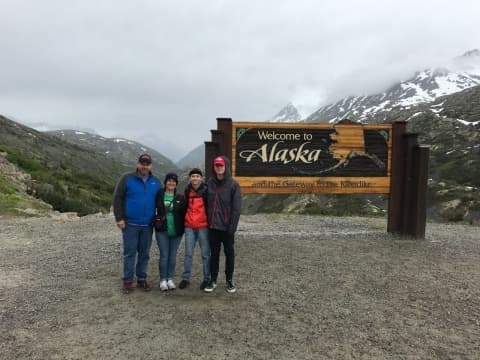 By Allison Eatough '97
Samantha Baker '97 and her husband, Rob Baker '96, are seasoned travelers.
They've explored the Caribbean several times on large cruise lines and visited every state in the U.S., often with their sons, Josh and Zack, in tow.
But in 2017, they wanted a different kind of vacation – one where they could not only escape the heat and humidity that comes with Maryland summers but also travel easily with an older adult and delve into local cultures and activities.
The University of Maryland Alumni Association's Big Ten seven-day cruise to Alaska was the perfect fit.
An Oceania Cruises ship carried the Baker family; Bobby Fogle '96, Rob Baker's friend and UMD fraternity brother; and Fogel's mother, Susie, from Seattle to Alaska's Inside Passage and Vancouver.
Because the ship was smaller than a typical cruise ship, "it was able to navigate places that some of the larger cruise lines cannot," Samantha Baker said. Those places included several ports where travelers could explore local towns or go on "excursions," she said.
"Every little town we came to, I thought, 'I could live here,'" Baker said. "It's a beautiful type of isolation… and the weather was just so pleasant and enjoyable."
Among the Baker family's favorite activities: kayaking along the Alaskan coastline and inlets, glassblowing in Skagway, visiting scenic gardens and the base of the Mendenhall Glacier in Juneau and touring the Icy Strait area, home to the Tlingit – an indigenous people of the Pacific Northwest Coast.
"It was nice to stop in some of the businesses," Baker said. "One of the stores had all these pelts and furs – half of which we've never seen in Maryland."
There were also plenty of Big Ten-related activities for travelers on the ship, including tailgates where people wore school-themed clothing and guest speakers like Clark Kellogg, sports analyst and former basketball player for the Indiana Pacers and The Ohio State University.
"There were about 20 of us from Maryland," Baker said. "Being with people that went to your alma mater, you already have an icebreaker. You don't have to worry about trying to take days to get to know somebody or trying to figure out a talking point because you are already connected with the university… It really creates a sense of comfort that allows you to enjoy your trip."
Overall, support from the Alumni Association made the trip easier and more personal, Baker said.
"The communication and all of the details that came from the Alumni Association about the cruise were very helpful," she said. "And with the Alumni Association, you're a face, you're a name and you're a person… There's a level of accountability there that I think that they really rise up to because alumni are valued at Maryland."
As for fellow Terps contemplating a similar trip in the near future, Baker has some advice.
"If you see a trip like this, do not say, 'I'll do it later,' 'I'll do it next time' or 'Oh, it'll come up again,'" she said. "Make it happen if you can make it happen."
As a member of the Alumni Association, you, your friends and your family have access to a once-in-a-lifetime travel experience. With land, river, and cruise programs available, the opportunities to explore the world are endless. To learn more about scheduled 2021 and 2022 trips, visit the Alumni Association travel webpage.
###
The Alumni Blog connects you with the latest at UMD. Check out articles on advancing your personal and professional goals, elevating your UMD pride, and celebrating Terp traditions, legacies and accomplishments. For even more content, follow the Alumni Association on Facebook, Instagram, Twitter, LinkedIn and YouTube. Become a UMD Champion to receive monthly shareable pride points, news and more straight to your inbox.