Home
About Us
News & Stories
Testudo Forever: the Fulk Family's Lifelong Connection to UMD
Testudo Forever: the Fulk Family's Lifelong Connection to UMD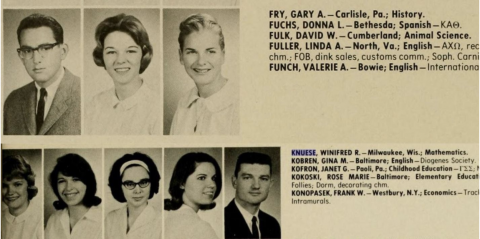 By Helen Mamo
Education touches lives –– both personally and professionally. Places of education are sacred spaces where passions are born and lives intersect. No one knew this better than David "Dave" Fulk Ph.D. '71 (Animal Science) whose life changed by both his studies and a chance meeting at the University of Maryland. Dave, 75, passed away on April 26, 2019, and spent his life making sure those around him were taken care of.
Dave met his first wife, Winifred "Winkle" Fulk Ph.D. '70 (Physiology), at the university while completing their doctoral degrees. Interestingly, they both earned their bachelor's and master's degrees at UMD, and only met later. Dave went on to have a successful career at the U.S. Department of Agriculture. While juggling motherhood, Winkle returned to school for an additional master's degree to teach math at the community college level, eventually ending up at Johnson County Community College (JCCC) in Overland Park, Kansas.
The Fulks had four children, Deborah, Daniel, Michael and Stephen, and eventually 13 grandchildren. As Chief of Marketing Standards, Dave continued his research career at the USDA's Federal Grain Inspection Service.
At JCCC, Winkle became known for her dedication to students - even throughout her 1984 heart-lung transplant surgery at age 42. She talked at length about that journey in Lee Gutkind's book, Many Sleepless Nights. She also spent a great deal of time lending support to prospective and recent transplant patients.
"I remember going to JCCC when I was younger because my grandmother was a math professor there, and her office was the only place where she could babysit my sister and me. I loved it there. I now realize that seeing my grandmother and all the other professors, people who had spent their whole lives passionate about math, left me yearning for the sense of purpose and identity that they embodied," recalls Alex Fulk, grandson, JCCC alum and current doctoral student at the University of Kansas.
"We all admired her courage, her strength, her dedication to students and to our profession. It seemed that nothing could stop her, nothing could overcome her determination to live," says friend Mary C. Rack, who Winkle met at JCCC.
Though the pioneering procedure was a success, the years of anti-rejection medications would take their toll, and in December 1991 Winkle passed away. At this critical moment, it was once again an educational space that fostered a connection that would reimagine the Fulk family's story - it was at JCCC that the Fulk family met friend and colleague, Mary C. Rack.
In 1992, Dave and Mary married. They didn't necessarily agree on who found who first, but Mary does remember a poignant moment in their friendship. After the holidays, Mary helped Dave with practical matters, like cleaning out Winkle's faculty office at JCCC. In that process, and in getting to know each other's families, they grew closer. One day, Mary remembers Dave giving her a hug that changed everything.
Through the resulting combined family, Dave added two stepchildren, Christine and Richard Wu.
Dave loved his expanded family and found renewed joy in giving back to them. "The first time I realized the depth of his kindness was when I was attending nursing school and my finances began to run out during my senior year," recalls Jennifer Fulk, Dave's daugher-in-law. "He knew of my situation, and graciously gave me a 'loan' so that I wouldn't have to drop out. Dan [his son] and I were merely dating at that time, and not even engaged yet. It was just such a kind act, even though he would never let me repay the 'loan,' I've spent the years since trying to make him proud of me and of the nurse that I became thanks to his generosity," she adds.
In addition to his generous spirit, Dave had a great sense of humor. There is an iconic 1964 Diamondback photo of him and his friend Jim Cole, pondering an emergency escape from Jull Hall with a rope.
His granddaughter Chantell Fulk agrees, "My favorite thing about my Grandpa was his sense of humor, and his sarcasm. If you met him you'd get along with him really well –– especially if you offer wine."
Testudo Forever
To Dave, the University of Maryland meant a great deal. Thanks to his studies, he had a successful career at the U.S. Department of Agriculture. And thanks to a chance meeting in class with then Winifred Knuese, he had a family.
Very few, indeed, would want to have the Testudo permanently tattooed on them. Dave was all in. He asked his granddaughter Abby Fulk, a tattoo artist, about getting inked. "I thought it was really sweet that he wanted a tattoo, since he didn't have any or show much interest in getting one before then," remembers Abby.
Though Dave passed before being able to get the tattoo himself, his family members were willing to carry the torch on his behalf. "After Dave passed, I wanted a way to pay tribute to a wonderful man who meant so much to me and my family. I knew what his university mascot was, and searched Google for just the right image," says Jennifer Fulk, who now has the Testudo tattoo on her foot.
"I was very happy with how it turned out, we even hid a small GPD (for Grandpa Dave) in the shell pattern because that's always how he would sign everything," observes Abby.
Jennifer adds, "The mascot seemed a perfect fit, because education was so important to him. And, the initials were important to me, because it was sort of his 'signature.'" "It's not glamorous, but every time I look at my tattoo I think of Dave and it makes me smile," she says.
Giving Back
After Dave died, Mary began thinking about how to honor him. To fully tell his story, she realized that Winkle had to be included as well. And what better beneficiary than the University of Maryland, where this journey started.
This month, Mary created The David and Winifred 'Winkle' Fulk Graduate Student Research Support Fellowship. The award entitles doctoral students in the College of Agriculture and Natural Resources, students whose area of graduate study focuses on math education or those who intend to pursue an academic teaching career at a community college or teaching-focused university/college.
"In narrowing the focus of this fellowship, I considered Dave's studies in agriculture and his career with the USDA, along with the community college mathematics teaching careers of both Winkle and myself. Our children join me in gratitude for our ability to help students who will someday follow in the footsteps of Dave and Winkle," says Mary C. Rack.
The Alumni Blog connects you with the latest at UMD. Check out articles on advancing your personal and professional goals, elevating your UMD pride, and celebrating Terp traditions, legacies and accomplishments. For even more content, follow the Alumni Association on Facebook, Instagram, Twitter, LinkedIn and YouTube. Become a UMD Champion to receive monthly shareable pride points, news and more straight to your inbox.
Spotlights connect you with your Maryland community and campus, celebrating achievements from alumni, students, faculty and staff.