Home
About Us
News & Stories
When Terrapins Connect: How Alum Connections Helped This Terp Find a Job During a Global Pandemic
When Terrapins Connect: How Alum Connections Helped This Terp Find a Job During a Global Pandemic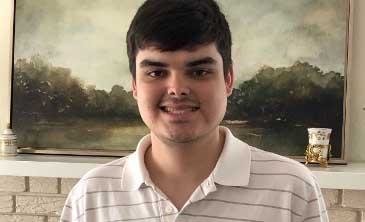 This Giving Tuesday, give to support the Alumni Association Programs and Events Fund which makes mentoring & networking opportunities like this possible.
By Devin Brooks '19
The cap and gown. The stage walk. Moving the tassel. And, of course, receiving that diploma. All quintessential markers of achievement for graduates at universities across the country. Will Cousins was looking forward to those traditional celebrations when he graduated from the University of Maryland in 2020, but then COVID-19 sent the world into a panic, and in-person commencements were canceled in favor of virtual ceremonies.
If the lack of graduation on campus wasn't enough, Cousins found the job market less welcoming than he hoped — COVID had forced thousands of companies to scale back or cut jobs. Despite Cousins' degree in government and politics, very little opportunities waited for him. "There weren't too many job options," he said. "With the pandemic it wasn't really making anything easier."
Cousins worked dual jobs as a substitute teacher at the Academy of the Holy Cross and as a legal assistant at the Marriott while he considered his prospects. That's when Cousins' mother, current University of Maryland Alumni Association Board of Governor Patty Cousins '87, suggested he give Terrapins Connect a try. Affectionately dubbed "LinkedIn for Terps," Terrapins Connect offers networking opportunities and jobs just for Maryland alums and current students.
Cousins had previously joined the platform but hadn't made much use of it. Now, he focused on trying to find the same jobs he'd applied to elsewhere, but on Terrapins Connect, hoping the influence of a Terp could help get his foot in the door. His hard work paid off — Cousins met mentor David Vine '19, an operations research analyst at the Internal Revenue Service (IRS), who would be critical to Cousins landing a position within the government agency. As Cousins put it, Vine wrote "whole paragraphs" describing a realistic picture of what a job at the IRS would look like, the pros and cons of the position, and how to prepare for the notoriously intense process of interviewing for government service.
Vine asked around and got in touch with a colleague higher up in the IRS, who then connected Cousins with a peer who had thirty years of experience in the exact position Cousins had applied for. "They were able to give me a lot of advice that was very helpful for getting the job," says Cousins, including detailed information on the types of interview questions Cousins would be asked and how to answer them. This was excellent advice, because Cousins was "very nervous about going into the interview." Thanks to the mentors he gained through Terrapins Connect, Cousins felt confident during the interview process even though it didn't go exactly as he'd expected. "There were plenty of moments when they were asking their questions, and in my mind I was thinking 'I know exactly what they're going for.'"
Today, Cousins works as a revenue officer for the IRS. He says he's happy in his current position and sees the experience and skills he's gaining leading to his ideal role of a government analyst.
And if it doesn't work out? Cousins knows where to go — back to Terrapins Connect. He had formed a relationship with a second mentor on Terrapins Connect, one who specializes in jobs in the legislative branch. "She gave me some resources on where to go to find postings on legislative jobs, which is a whole aspect I never even contemplated."
Cousins says he would absolutely recommend Terrapins Connect to Terps, and offered this piece of advice for anyone finding themselves in his same position: "Keep applying, be persistent. You never know what sticks."
Whether you're a current student seeking career advice or an alum looking for a new professional path, join Terrapins Connect today to access exclusive networking, mentorship and job opportunities just for Terps.
###
This Giving Tuesday, give to support the Alumni Association Programs and Events Fund which makes mentoring & networking opportunities like this possible.
The Alumni Blog connects you with the latest at UMD. Check out articles on advancing your personal and professional goals, elevating your UMD pride, and celebrating Terp traditions, legacies and accomplishments. For even more content, follow the Alumni Association on Facebook, Instagram, Twitter, LinkedIn and YouTube. Become a UMD Champion to receive monthly shareable pride points, news and more straight to your inbox.