Home
About Us
News & Stories
When Terrapins Connect: UMBA Mentorship Program
When Terrapins Connect: UMBA Mentorship Program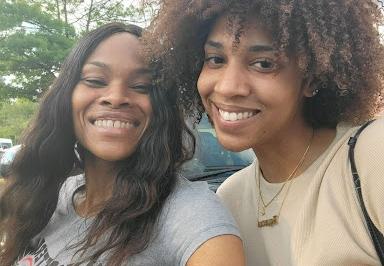 By Ethan Jenkins '23
When Taylor Dotson '21 came to the University of Maryland in 2019 to get her master's in industrial organizational psychology, she was ready to take on the academic challenge to make the final leap into her career.
Understanding that academics are only half the battle to getting into the professional world, Dotson found it critical to her career goals to find a mentor at the university to use as a resource through her professional journey.
When March of 2020 sent the university community completely virtual, she began searching for connections in new ways.
"I only got the chance to be on campus for about two classes, so I was really looking for that connection within the UMD community." Dotson said. So when a peer in her cohort informed her of the University of Maryland Black Alumni (UMBA) network's Student Mentorship Program, she applied right away. This program is one of several that operates through the university's online networking and mentoring platform, Terrapins Connect, which connects Terps all over the United States in meaningful relationships and professional development opportunities.
When Dotson was skimming through mentor profiles in the Terrapins Connect program, she quickly realized that she had found a perfect match. Joi Brown '01 is a career strategist, certified life coach, empowerment speaker and international best-selling author who currently works as a strategic recruitment manager within the federal government.
Dotson thought, "I need her to be my mentor, and we ended up getting matched. Joi was very genuine from the start."
For Brown, her interest in this program was personal. "As a mentor, I love being able to educate, equip and empower my mentees to unlock their passion, purpose and potential in life. It is a pleasure to serve as a mentor. I love being able to help somebody else because as I look back over my journey, somebody paved the way and mentored me."
By making this connection, Dotson was able to work on becoming a stronger applicant and professional in her field. "A big weakness for me was public speaking," explains Dotson. "I was timid and in my shell. As time went on, I got to know Joi and loosened up.Now I am taking what she has taught me as I am interviewing for new job positions."
Brown, a mentor for years,has gained a lot of valuable knowledge and lessons from her mentorship experiences, specifically from the UMBA mentorship program. To her, being a mentor means more than being a professional resource for the mentee.
"As a mentor, I am always impacted by the relationships that I established with my mentees because I believe that they're learning from me and I am learning from them. So it is truly a mutual relationship… you never know what you both can learn from each other." Brown states.
While Dotson has graduated and now works as a special assistant for the Prince George's Arts and Humanities Council, they both know their mentorship is not temporary. "I'm always Taylor's mentor, and she always has me in her life for a lifetime."
The University of Maryland Black Alumni (UMBA) Student Mentorship Program connects Black alumni with current Black students through a six-week facilitated mentorship program. Each student is matched with a dedicated mentor whose professional experience aligns with the student's field of interest. This mentorship offers many opportunities to promote career and scholarly success, help in career exploration, and build important, lasting relationships with others.
###
The Alumni Blog connects you with the latest at UMD. Check out articles on advancing your personal and professional goals, elevating your UMD pride, and celebrating Terp traditions, legacies and accomplishments. For even more content, follow the Alumni Association on Facebook, Instagram, Twitter, LinkedIn and YouTube. Become a UMD Champion to receive monthly shareable pride points, news and more straight to your inbox.