Home
About Us
News & Stories
2022 Alumni Survey Results
2022 Alumni Survey Results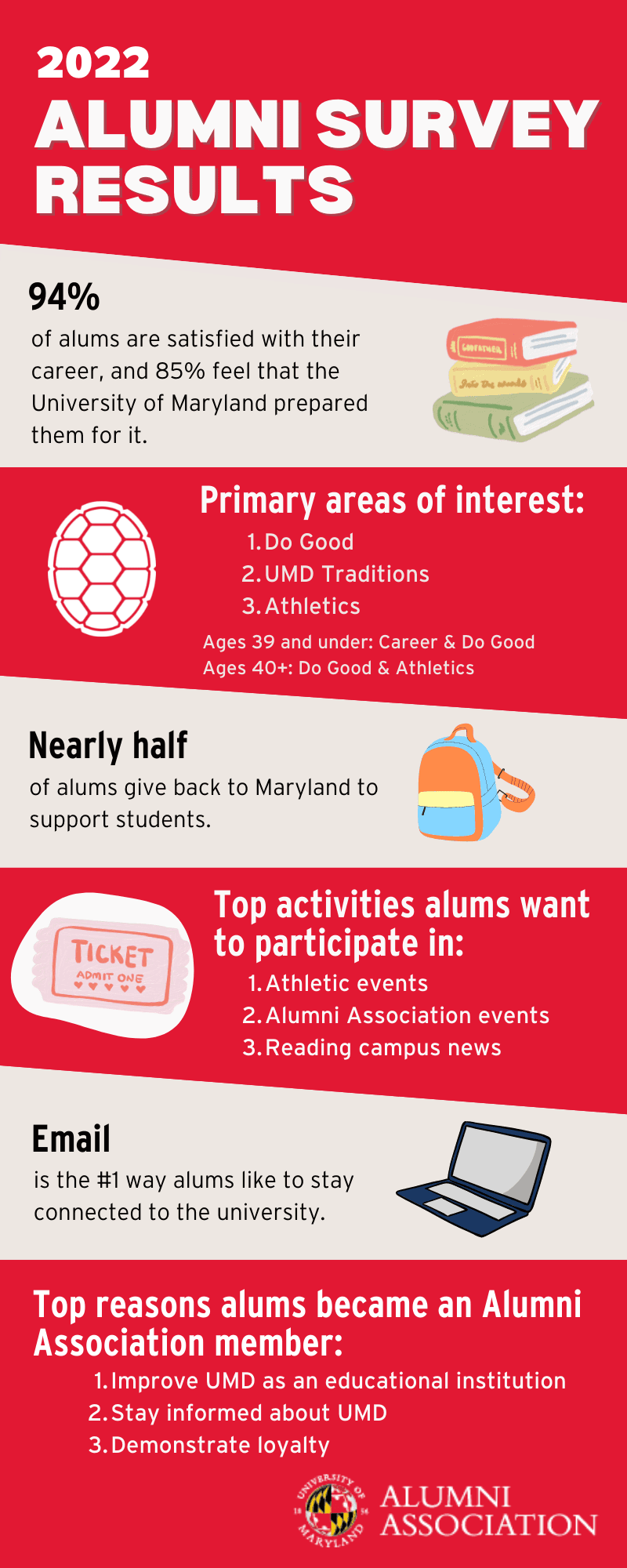 We asked, and you answered. Thank you for participating in our 2022 alumni survey, and for providing valuable feedback. With your contributions we will continue to help Terps move fearlessly forward in advancing their personal and professional lives, while providing an outlet to give back and Do Good. See the highlights here, and read on to learn more about maximizing your relationship with the Alumni Association.
Stay connected to your Alumni Association by updating your information, especially your email address. This is the best way to stay in the know about all that we offer the Terp community, including alerts about game watches and tailgates, Career Week in January, and Do Good month in April.
Don't want to wait until April? Sign up for volunteer alerts today and participate in the fearless Terp tradition of giving back. Want to boost your professional path right now? Check out the assortment of career services we offer, including networking opportunities, mentorship opportunities and job postings through Terrapins Connect.

Read Terp news and stories on the Alumni Association website, and learn more about campus and alumni news by reading Maryland Today and Terp magazine (join as a member and receive a free print subscription). Plus, you can always check the Alumni Association events calendar for a full listing of upcoming programs for Terps, including game watches, gatherings, webinars, celebrations and more.

Through Alumni Association programs and events you can advance personally and professionally and improve the success of fellow Terps. However you want to grow, the University of Maryland Alumni Association has you covered.
###
The Alumni Blog connects you with the latest at UMD. Check out articles on advancing your personal and professional goals, elevating your UMD pride, and celebrating Terp traditions, legacies and accomplishments. For even more content, follow the Alumni Association by clicking on the following: Facebook, Instagram, Twitter, LinkedIn and YouTube.