Home
About Us
News & Stories
A Chance Encounter Helps Alum Commemorate a WWII Fighter Pilot and Fellow Terp
A Chance Encounter Helps Alum Commemorate a WWII Fighter Pilot and Fellow Terp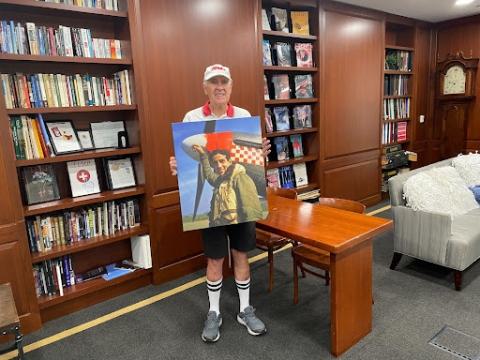 By Sala Levin '10
One day in the early 1950s, Chuck Day '53 tagged along with a friend of his on an unusual outing: as part of an assignment for an applied psychology class at the University of Maryland, Day's friend and several of her classmates were heading to St. Elizabeths Hospital in Washington, D.C., a psychiatric facility. There, the residents of the facility would act out their hostilities, in the hopes that doing so would help alleviate some of their problems.
Day wasn't in the class, but his friend knew he was interested in the subject and invited him along. On the ride to St. Elizabeths, Day realized that he recognized one of the seven or eight students crammed into his four-door sedan: it was Dominic Salvatore "Don" Gentile, a renowned World War II fighter pilot known as the "Ace of Aces'' who had enrolled in the University of Maryland after the war. Day was impressed by his passenger, but "didn't get a chance to talk to him because everybody was talking too much," he said.
Decades later, Day was reminded of Gentile quite coincidentally while browsing a pile of books at a store in Jessup, Md.: there, among the selection of coffee table books, was "Aces," a book by Bill Yenne on World War II fighter pilots. "The first page I came to was Don Gentile looking at me with his right arm on the propeller blade of a P-51 Mustang," said Day.
Gentile, born in Ohio in 1920, enlisted in the Royal Canadian Air Force in 1941, as he didn't have the two years of college required by the U.S. military. He was stationed in the United Kingdom as part of the Eagle Squadron, which in 1942 transferred to join the U.S. military and became the 4th Fighter Group.
Gentile downed two German planes during Operation Jubilee, a 1942 attack on the German-occupied port Dieppe in northern France, and went on to a total of 19.83 aerial victories during World War II.
After the war, Gentile continued on with the U.S. Air Force, and began studying military science at the University of Maryland. He died in 1951, at age 30, when his plane crashed during training.
When Day found the coffee table book, "I felt like it was divine intervention," he said. "I just had to do something, because he was a Terp." So Day enlarged the portrait of Gentile from the book and brought it to the Samuel Riggs IV Alumni Center, where it will be displayed.
Day hopes that the portrait will be a reminder to current students and alums of Gentile's burgeoning career, cut short by a tragic accident. "I never really got a chance to talk with the guy, but that experience (of meeting him) just hung on my shoulders," he said. "I've got to do something for this guy."
###
The Alumni Blog connects you with the latest at UMD. Check out articles on advancing your personal and professional goals, elevating your UMD pride, and celebrating Terp traditions, legacies and accomplishments. For even more content, follow the Alumni Association on Facebook, Instagram, Twitter, LinkedIn and YouTube. Become a UMD Champion to receive monthly shareable pride points, news and more straight to your inbox.