Home
About Us
News & Stories
A Look Back: Virtual Homecoming 2020
A Look Back: Virtual Homecoming 2020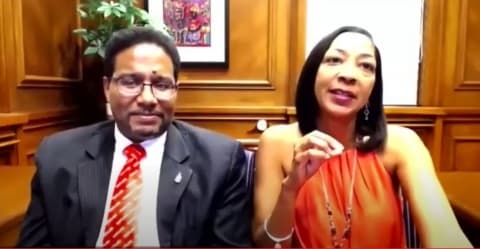 By Mary Bathon
Homecoming at the University of Maryland conjures vivid memories for students and alumni alike - seas of red, black, and gold in Lot 1, the Mighty Sound of Maryland strolling through campus, and fun with old classmates and friends. This year, the pandemic challenged Maryland to recreate those same experiences without physically being on campus. Luckily, an entirely virtual Homecoming enabled the Alumni Association to think outside the box and connect with alumni across the country in a more inclusive way.
Homecoming week kicked off with a virtual town hall hosted by new university president Dr. Darryll Pines. Alumna Eun Yang, anchor for News4 Today on NBC4 Washington, conducted a lively interview with Pines about the job of a university president and his vision for Maryland. Yang also presented questions submitted by alumni to get to know Pines on a more personal level. Pines' wife, Mrs. Sylvia Pines, joined later in the discussion, sharing stories about their family and how she views her role on campus. The interview ended with a poignant discussion about the COVID-19 pandemic and why the health and safety of the UMD community will always come first.
One staple event in Homecoming festivities is the reveal of the newest names engraved on the Frann G. & Eric S. Francis Lifetime Member Wall. To recreate the signature champagne toast, new Lifetime members were mailed commemorative glasses and chocolate, and took part in a special streamed ceremony with President Pines and Assistant Vice President of Alumni Relations Amy Eichhorst.
Homecoming has always been a time for former classmates to come together and reminisce, especially for alumni celebrating milestone years. Sadly, the Class of 1970 could not gather on campus back in May to celebrate their 50th Reunion, and the Class of 1971's reunion in 2021 is still uncertain.
Fortunately, members of both classes participated in a Virtual Paint Night, led by Terp artist and member of the Student Alumni Leadership Council Sarah Sabet '21. In addition to tapping into their inner artist, alumni shared stories about their time on campus, including the student gathering outside McKeldin Library May 1, 1970 to protest President Nixon's decision to expand the Vietnam War. The crowd marched down Route 1, where they were stopped by the National Guard. The protests continued over the next few days, intensifying after the massacre at Kent State.
Each alum had a "I remember where I was that day…" story to share. Sabet was amazed that she hadn't heard about such a notable event in UMD's history, noting that it was cool to see the parallels to her current experience as a student, 50 years later, as demonstrations for racial justice continue to take place on campus and in Washington, D.C.
It wouldn't be Homecoming without a little friendly competition. Before the Terps defeated the Golden Gophers during the Friday night football game, alumni networks faced off in the first Terp Pumpkin Tournament. Alumni submitted their best pumpkin designs and went head-to-head on the Alumni Association's Instagram. Bridget Russell '15, representing the Frederick County Alumni Network, prevailed. Her win was announced by a special Terp that knows a thing or two about brackets - UMD's former basketball star Walt Williams '92.
The regional and affinity alumni networks added creative content to the Homecoming week calendar. The Northern Virginia Network hosted Ali Von Paris to share her story of her business Route One Apparel. She spoke on her business' evolution, from starting in her dorm room to Larry Hogan wearing her MD-themed facemask on national television.
A staple Homecoming tradition is hearing the students of the Mighty Sound of Maryland play alongside its alumni. The Band Alumni Network didn't let physical distance get in the way of that tradition! They hosted a virtual tailgate and put together a special virtual performance.
The Latinx Alumni Network shared the traditions of Día de Muertos, which fell just after Homecoming week. Finally, the Black Alumni Network invited chef Sanjay Singh to lead a cooking demo of Food that Makes Your Soul Singh.
While alumni couldn't gather in College Park for Homecoming this year, over 1,000 alumni attended virtual events throughout the week. While next year's Homecoming may be in-person, the Alumni Association will continue to offer virtual Homecoming events to capture the international pride of all our Terps.
The Alumni Blog connects you with the latest at UMD. Check out articles on advancing your personal and professional goals, elevating your UMD pride, and celebrating Terp traditions, legacies and accomplishments. For even more content, follow the Alumni Association on Facebook, Instagram and Twitter.