Home
About Us
News & Stories
A Sports-Loving Alum Reconnects through Athletics
A Sports-Loving Alum Reconnects through Athletics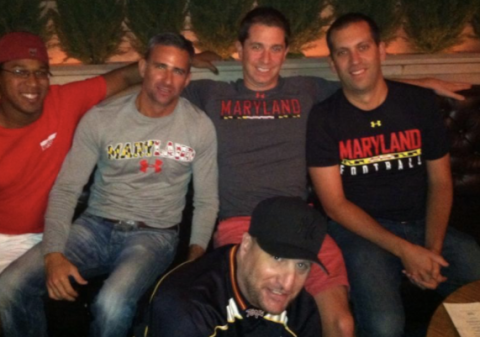 As a teenager, Daniel Rochkind '98 came to the University of Maryland intending to learn how to cover sports as a journalist. Now, UMD's athletics continue to be one of his foremost passions--and led him to a deeper connection to the university through the Alumni Association.
"It started with a couple of us just saying, 'Hey, let's get together for game watches,'" said Rochkind. "It worked into this very large presence."
As an undergraduate, the Long Island native pursued degrees in both journalism and accounting, becoming sports director of WMUC Sports, the campus radio station, and traveling to cover football and basketball games. The accounting degree was a backup in case broadcasting didn't work out and Rochkind needed "a real job"--leading to his career in private equity.
In 2002, Rochkind began his involvement with the Alumni Association after running into a UMD acquaintance who worked for the organization at the NCAA tournament. After Rochkind mentioned that the alumni presence in the New York City area--where he lived--could be stronger, she challenged him to make it happen. "You're now the solution to that problem," Rochkind remembered her telling him.
After that, Rochkind began "kickstarting" alumni activities in New York, he said. He and two UMD pals began planning events and spreading the word among their network. Soon, 300 to 400 people were active in the region's group.
Now a member of the University of Maryland Alumni Association Board of Governors, Rochkind said one of the best parts of his involvement with the Alumni Association is staying in touch with the university and keeping up to date on College Park happenings. "It's really amazing what's going on with our campus and all the big advancements we've made," he said.
Another highlight is the opportunity to support Terps, whether by mentoring current students, offering career guidance or by making philanthropic contributions. "It's great to be able to give back and help others out," said Rochkind.
But Rochkind's clear winner for best perk of involvement with the Alumni Association? Building relationships with his fellow UMD graduates. "Every alum I've met from the University of Maryland is an amazing person," he said. "I'm biased, but it really is true."
###
The Alumni Blog connects you with the latest at UMD. Check out articles on advancing your personal and professional goals, elevating your UMD pride, and celebrating Terp traditions, legacies and accomplishments. For even more content, follow the Alumni Association on Facebook, Instagram, Twitter, LinkedIn and YouTube. Become a UMD Champion to receive monthly shareable pride points, news and more straight to your inbox.