Home
About Us
News & Stories
A UMD/New York State of Mind
A UMD/New York State of Mind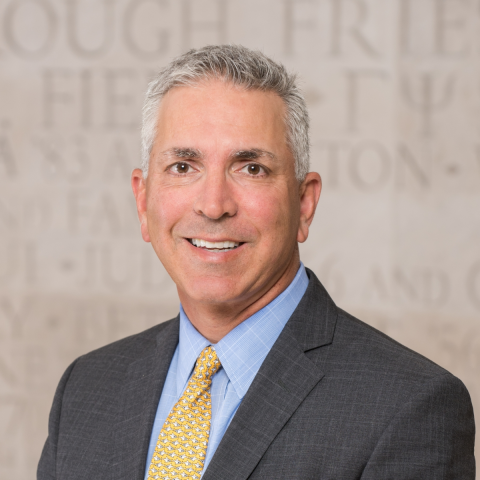 By Sala Levin '10
A born connector, Jim Giangrande '90 has found what might be his best tool for creating links in a source close to his heart: the University of Maryland.
Along with fraternity brothers, professional acquaintances and fellow Terps he met through the Alumni Association, Giangrande is part of a network of UMD grads who advise one another and swap ideas on business, self-improvement and new life approaches.
"We all had that Terrapin bond in common, and I loved it," said Giangrande. "We quickly grew close, as if we had experienced college together many years ago."
Growing up in White Plains, N.Y., Giangrande was drawn to the Washington, D.C. area for college, and hoped for a spirited school with a top-notch basketball program. Several friends and acquaintances attended UMD, and when Giangrande visited, the New Yorker in him felt at home. He was also lured by the beauty of the campus, which he'd recently seen on screen in the 1985 movie "St. Elmo's Fire."
(Giangrande pictured in center)
Giangrande joined the fraternity Tau Kappa Epsilon, and decided to study finance, given his natural inclination toward math and business. "It became clear to me that I was unemployable, and that I needed to pursue an entrepreneurial track that ultimately would allow me to have control over my time, and with hard work, provide financial security," he said.
(Giangrande pictured at left)
Still, after Giangrande graduated in 1990, opportunities were scarce. When an old acquaintance called him and asked if he wanted to move to Burlington, Vt., with him on a fluke, Giangrande agreed, and eventually began his career in life insurance and financial services.
(Giangrande pictured at right)
Giangrande, a certified financial planner, eventually reached what he calls "a ceiling of complexity" in his financial practice. Inspired by an entrepreneurial coaching program he'd taken part in, he decided to create a new challenge for himself. Together with several partners, Giangrande founded Altium Wealth Management in Purchase, N.Y.
"We built our firm with one question in mind: what would we want if we were our clients?" said Giangrande. "We are able to act like a personal chief financial officer for our clients, transforming the complexities of their situations to provide them with clarity, confidence and control over their money."
Since its start in 2010, Altium has grown to manage roughly $2.1 billion; it's also been consistently named one of the country's 50 fastest-growing registered investment advisory firms by Financial Advisor magazine.
In the last few years, Giangrande has cherished the chance to strengthen his UMD ties, building groups of Terps who brainstorm ideas and problem-solve together. It began when Giangrande had the idea to strengthen an existing networking group of his with new, New York City-area Terp members. Working with the Alumni Association, Giangrande has continued to expand the NY Terps Alumni Network with programming and events, including lectures from UMD faculty.
He's also involved with ANC Terps, a group that supports UMD Men's Basketball, and received the Connectors Award at the Alumni Association's Maryland in Manhattan event in 2018.
"I find fulfilment in inspiring and helping people to challenge themselves to do great things," said Giangrande. "My joy comes from helping other people achieve their joy."
Living with self-improvement in mind, Giangrande has taken a simpler, more disciplined approach in recent years, focusing on health, time with his three college-aged children and exploring new ways of thinking.
"I love the fact that my kids come to me for advice almost daily," he said. "Although I was very close with my parents, I was never vulnerable enough to ask them for advice when I was 19 or 20 years old. They come to me because they continue to see me push to grow in all areas of my life and are adopting that mindset themselves," he said.
###
The Alumni Blog connects you with the latest at UMD. Check out articles on advancing your personal and professional goals, elevating your UMD pride, and celebrating Terp traditions, legacies and accomplishments. For even more content, follow the Alumni Association on Facebook, Instagram, Twitter, LinkedIn and YouTube. Become a UMD Champion to receive monthly shareable pride points, news and more straight to your inbox.