Home
About Us
News & Stories
Adventure Awaits Terp Travelers
Adventure Awaits Terp Travelers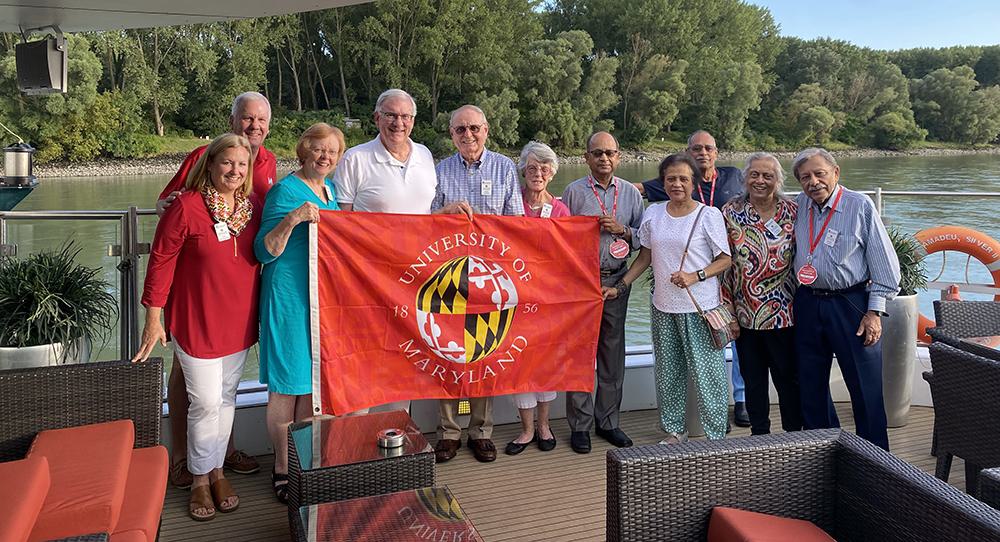 Few excursions indulge wanderlust like a 5-day cruise on Europe's storied Danube River, highlighted by attendance at the once-in-a-decade Oberammergau Passion Play in Germany.

Eleven Terp alums and university leaders took in the geographic and artistic splendor during a July 14-24 trip crafted by the Alumni Association and Chicago-based Gohagan Travel. The expedition, which included alumni from other university alumni associations, gave travelers unique access to guest lecturers about regional history and culture, and authentic local food and drink. The voyage included stops in Budapest, Hungary; Bratislava, Slovakia; and Vienna, Austria.

But it was Passion Play – the story of the suffering, death and resurrection of Christ – that was a top reason for many to make the trip. Since 1633, the small Bavarian village of Oberammergau has performed the spectacle on the decade, every decade. Maryland travelers got special access to the stage, and they engaged with locals with deep connections to the production. Side trips included visits to Munich beer halls and the Dachau concentration camp.
"It was an incredible opportunity to see other parts of the world and other cultures with fellow Terps. I got to hear about their experiences and make unique connections with these travelers, says Amy Eichhorst, Associate Vice President of Alumni and Donor Relations and Executive Director of the Alumni Association. "I felt proud to host our alumni on such a high quality, first class trip. And I encourage others to explore these vacation packages. Why travel alone when you can explore the world with fellow Terps?"

For Terp travelers, the experiences are nothing short of sublime.

"A lot of people say it makes them want to experience places more," says Gohagan representative Robert Bingle. "There's nothing even remotely close to understanding places and cultures than by going there and seeing it. People say it's a tangible way for them to see how others live, and their lives are enriched because of that."

More adventures await UMD travelers in 2023, and reservations are now being accepted. In partnership with Gohagan and three other tour operators, destinations that we have to offer include Tahiti and French Polynesia; "Legends of the Nile" (a small-group adventure along the Nile River, plus explorations in Cairo, Luxor and Abu Simbel); and "Greek Isles Odyssey."

After more than two years of Covid disruptions, travelers are finding many requirements and restrictions – such as vaccination requirements and mandatory masking – have been lifted. (Some countries still require proof of vaccination.) Borders also have been reopened. But, Bingle emphasizes, buying travel insurance is strongly recommended to cover costs, should Covid curtail or cancel a trip.

Gohagan, which has been in the travel business for more than 35 years, developed the trips specifically for alumni travelers, and not the general public. The business has worked with the University of Maryland Alumni Association for more than two decades. Many return from their voyages deeply satisfied at the breadth of the experience. In addition to lectures, often given by college professors, local tours are conducted by vetted and experienced local guides, Bingle says.

But there's something even deeper.

"There's a synergy when alumni are all there for this in-depth travel experience," Bingle adds, noting that thousands of Maryland alumni have taken part in the organized trips over the decades. "It's amazing on an eight-day trip just how many connections these folks make, and how much they'll keep in touch afterwards. They're like-minded folks looking for an in-depth travel experience. If you do this trip on your own, you're not going to get that element."

Find your Terp adventure with the Alumni Association travel program.
###
Publication of this article does not imply an endorsement of any interview subject's views by the Alumni Association. The Alumni Blog connects you with the latest at UMD. Check out articles on advancing your personal and professional goals, elevating your UMD pride, and celebrating Terp traditions, legacies and accomplishments. For even more content, follow the Alumni Association on Facebook, Instagram, Twitter, LinkedIn and YouTube.