Home
About Us
News & Stories
Alumni Association Travel Program Inspires a Maryland Couple to See the World
Alumni Association Travel Program Inspires a Maryland Couple to See the World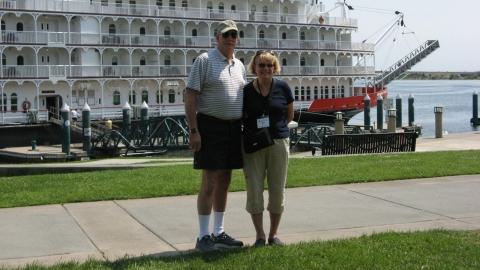 By Allison Eatough '97
For Sharon Bley '70 and her husband, Les, adventure awaits every time they receive a new travel brochure from the University of Maryland Alumni Association.
"The leaflets just show up in the mail and invite us to places we didn't even know we wanted to go," Sharon said. "It's very motivating."
The Maryland residents, who are both retired, began traveling with the Alumni Association in 2004. Since then, they have cruised along the Columbia River, traversing the same path as American explorers Meriwether Lewis and William Clark. They've witnessed the awe-inspiring power and beauty of the Victoria Falls waterfall in Zambia. They've observed puffins building their nests in Iceland. They've toured castles covered in gold in Saint Petersburg, Russia. They've even slept inside a game reserve filled with lions, rhinoceroses and elephants in South Africa.
"Everybody was in their own little hut there," Sharon recalled. "The entire back wall of the hut was glass, even the bathroom, and there was an outside shower. You could sit in the tub and watch the animals. It was so cool."
Each trip holds special memories for the couple, she said.
During a World War II-themed trip to France, the Bleys visited the beaches of Normandy and the Normandy American Cemetery and Memorial. There, David Eisenhower, guest speaker, author and grandson of President Dwight D. Eisenhower, talked with the group about the war and those buried in the cemetery.
"He asked all the veterans to please step forward to help move a bouquet of flowers," said Les, who served in the U.S. Army Reserve during the Vietnam War. "It only took two of them to move it, but we all went up, and then they played taps… If you didn't have tears running down your cheeks at that point, you had a heart of stone. It was very touching."
Sharon said they continue to travel through the Alumni Association because trips are well-organized and give them a chance to stay connected to the university. They also enjoy meeting fellow Terps and graduates from other universities.
Les and Sharon Bley, pictured left.
"Every Alumni Association does a cocktail party somewhere along the line," Sharon said. "It's fun to see the different groups. And I just like that it's all taken care of for you. You don't have to think too much."
"The biggest thing you have to think about is, 'Can I afford to eat all of that food, and how much of it am I going to bring home with me?'" Les added with a laugh.
As a member of the Alumni Association, you, your friends and your family have access to a once-in-a-lifetime travel experience. With land, river, and cruise programs available, the opportunities to explore the world are endless. To learn more about scheduled 2021 and 2022 trips, visit the Alumni Association travel webpage.
###
The Alumni Blog connects you with the latest at UMD. Check out articles on advancing your personal and professional goals, elevating your UMD pride, and celebrating Terp traditions, legacies and accomplishments. For even more content, follow the Alumni Association on Facebook, Instagram, Twitter, LinkedIn and YouTube. Become a UMD Champion to receive monthly shareable pride points, news and more straight to your inbox.