Home
About Us
News & Stories
Alumni Profile: Deanna Perlmutter-Tarulli '89
Alumni Profile: Deanna Perlmutter-Tarulli '89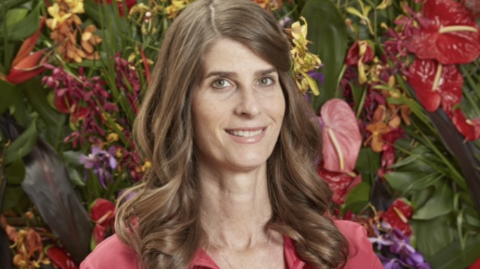 By Rich Cohen '87, Immediate Past President of the NNJ Terps Network
When I heard that the Alumni Association wanted each regional network to spotlight an alumna for Women's History Month, I volunteered to interview one of our Northern New Jersey board members. I thought I would be putting together a straightforward piece highlighting family, professional moments and a few Terp memories. Little did I know that I would be overwhelmed by such a unique, interesting and powerful persona.
Let me introduce New Jersey's own Deanna Perlmutter-Tarulli '89. She is a coffee account executive. She is a model. She is an actress. She is a game show winner. She is an editor and blogger of a beauty products website. She has been a court-appointed special advocate for children. And for the past three years, she has been an active board member for the Northern New Jersey Terps Alumni Network.
Deanna grew up in East Brunswick, New Jersey with her parents and older sister. She participated in school plays during her formative years, which helped her develop the confidence to put herself out there in all kinds of situations. She began her college career studying business at Rider College in New Jersey. However, when she transferred to Maryland, she chose to major in criminal justice, influenced by her childhood fascination with the FBI.
As she progressed through her years as a Terp, she made one final career swerve towards sales, presenting her justification in a very forthright way: "My father was in sales. My mother was in sales. And my sister was in sales. So I thought that might be the way to go."
Beginning her sales career with telecom company MCI, Deanna continued with stops at Worldcom, GTE and Sprint over an 18 year period. Eventually tiring of the telecom world, Deanna decided to take her skills to food and beverage companies after seeing an online job ad for Sara Lee. She spent time initially in the coffee and tea division, then at food and beverage departments at Unilever and Nestle Waters before getting back to coffee sales with her current company Massimo Zanetti Beverage, where she covers the "Away from Home" division in the northeastern United States. She especially enjoys the traveling component of her job, where she gets to explore different locations and meet new people. She spends her days talking about and tasting coffee with prospects and customers who become friendly associates.
Along the way, Deanna infused her busy career with fascinating outside interests and activities. In 2012, Deanna participated in a short-lived television game show called "Head Games." She was a contestant and one of the winners of this science-based, Whoopi Goldberg-produced show which appeared on the Science Channel.
In 2013, Deanna's picture was featured on the holographic cover of a book called "Substitute Creature," part of a young adult fiction series. The following year, Deanna was one of the featured models in a Samuel Dong fashion catalog. Along the way, Deanna has also been featured in infomercials for BeachBody fitness, a national Special K commercial and various other acting and modeling jobs. She is currently an active editor, blogger and reviewer for the BeautyStat cosmetics website, and recently participated on a cooking show on Pinterest. Deanna also has volunteered for the national organization Court-Appointed Special Advocates (CASA), working with children in foster homes.
In her spare time, Deanna enjoys yoga, exercising, reading and traveling. She lives in Weehawken, New Jersey with her husband Mike right across the Hudson River from Manhattan. When I asked Deanna if she could sum up her personality in one word, she said "kind." She went on to elaborate that she has a good heart with good intentions. She enjoys helping people (whether through her work with CASA or in her profession with Massimo Zanetti Beverage) and giving back as evidenced by her involvement as a board member on the Northern New Jersey Terps Alumni Board.
If you would like to contact Deanna, reach out to her via LinkedIn, as she loves helping people and will always be willing to answer questions or give advice.
Richard Cohen '87
Immediate Past President,
Northern New Jersey Alumni Network
###
The Alumni Blog connects you with the latest at UMD. Check out articles on advancing your personal and professional goals, elevating your UMD pride, and celebrating Terp traditions, legacies and accomplishments. For even more content, follow the Alumni Association on
Facebook
,
Instagram
,
Twitter
,
LinkedIn
and
YouTube
. Become a
UMD Champion
to receive monthly shareable pride points, news and more straight to your inbox.