Home
About Us
News & Stories
And the Winner Is...
And the Winner Is...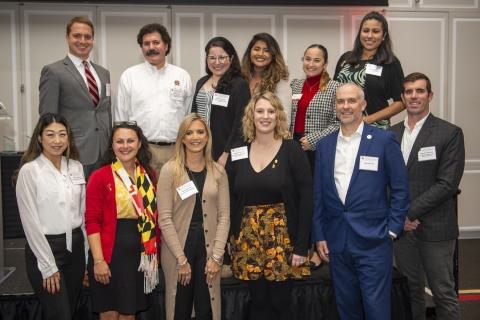 University of Maryland Alumni Association Leadership Conference Awards
The Volunteer Leadership Conference, hosted annually by the University of Maryland Alumni Association, is an opportunity to gather with our alumni network leaders across the country to educate, engage and entertain while also expressing gratitude for their hard work and dedication to the university and the Alumni Association. We do this through the presentation of six awards, and we are honored to share the awardees for 2021:
Student of the Year: Gabriela "Gavi" Winter '22
Winter is known most notably in her current role as the president for the Student Alumni Leadership Council (SALC).
In this role, she represents the student voice with the Alumni Association Board of Governors; gives presentations across campus and speaks on behalf of SALC to campus leadership, course instructors, and her peers; and leads the SALC executive council. Gavi also had the added challenge of beginning her presidency during a completely virtual year due to the COVID19 pandemic. Despite this, she has always worked to find new and exciting ways to engage all SALC members via Zoom and in person at weekly meetings. It is because of Winter's leadership that the students in SALC have continued to stay engaged, even when we were all physically apart.
In addition to her involvement with SALC, Winter has made significant contributions to the campus community, as the vice president for finance for her sorority Alpha Omicron Pi, a leader in Omicron Delta Kappa National Honor Society and as a member of the Public Leadership program in College Park Scholars. Winter is also a fantastic speaker, giving impressive presentations across campus. Most notably, this past spring she gave a presentation to campus leadership about SALC and its initiatives at the request of Vice President for University Relations, Brodie Remington. It is evident that Winter's legacy and impact has grown well beyond the Alumni Association and has been recognized campus-wide. She is collaborative, hard-working and a dedicated leader. We are proud to present her with the 2021 Student of the Year award.
Network of the Year: Latinx Alumni Network
Since 2014, the Latinx Alumni Network (LAN) has worked to meet the needs and interests of the Latinx Terp alumni community, with a range of programs including cultural events, professional development events and events for personal growth. In addition, the LAN board has expanded to bring on additional leaders with a diverse set of skills to strengthen the network and its programming.
Throughout the COVID-19 pandemic, LAN has continuously worked hard to provide events for alums and the community. They have hosted everything from kicking boxing/HITT classes to resume workshops, cooking classes, a bilingual COVID Q+A, and cultural events such as a program focusing on the history of Día De Los Muertos. The network has also increased their social media engagement this past year and found ways to expand their program offerings by partnering with campus departments, including the College of Behavioral and Social Sciences and the Multicultural Involvement Community Advocacy office. By creating an assortment of virtual engagement options, LAN has been able to create new content and find ways to engage a national alumni audience. Thank you to the members of LAN for providing an array of meaningful opportunities for alumni across the country to engage with the university and fellow Terps.
Volunteer of the Year: Rich Cohen '87
Cohen is one of the early founders of the Northern New Jersey Terps Alumni Network and until this year, he has been the only president the network has had. Cohen helped build the network from a small group of alums, who would meet up to watch Terp games, to a board of 12 dedicated volunteers hosting regular events. If you haven't noticed already, he is present at almost every event, whether in New Jersey, New York, College Park and even Houston! He always takes time out of his schedule to contact potential and current members directly and he stays on top of all things related to the university. During his tenure he has led the group by example: working hard, being open-minded and continuous outreach to work with the university and other networks. Cohen is always keeping us on our toes at the Alumni Association, making sure all of our "I's" are dotted and "T's" are crossed. This past year Cohen worked with fellow board member, Brian Scholder '92, to put on a Q&A with President Pines, which turned out to be one of the most well-attended events that the network has ever hosted. For these efforts and more, we are pleased to present him with the 2021 Volunteer of the Year award.
Emerging Network of the Year: Jewish Terps Alumni Network
The Jewish Terps Alumni Network (JTAN) is the Alumni Association's newest affinity network. The quick growth of JTAN has been remarkable, and is due in large part to dedicated and creative board members. In working to engage members and attract more like-minded individuals, JTAN developed Facebook and Linkedin groups and has welcomed various speakers for virtual events, including several alums. The first was Andy Friedman '93 who demonstrated how to make several varieties of Hanukkah latkes. The second, in partnership with the Jewish Federation, enticed the famous Israeli chef Michael Solomonov to show us different twists on Passover food. In the Spring, they heard from Molly Beth Rushfield '91 on how to "Put the YAY into the Seder" to spruce up your Seder during the pandemic. Additional events included a Comedy Central-type performance for Purim with Elliot Bromberg '19 and a virtual drag show in honor of Pride Month featuring Aveira '19, the Jewish Drag Queen..
JTAN is less than one year old but already has so many accomplishments under their belt. Despite the limitations of in-person events over the past year, JTAN has been able to engage Jewish Terps and friends all across the country. We are excited to continue to see the impact of their hard work and creative ideas as their network continues to grow, and are pleased to award them the 2021 Emerging Network of the Year award.
Do Good Service Award: D.C. Terps Alumni Network - Terps Raising Pups
The D.C. Terps Alumni Network partnered with Terps Raising Pups, the University of Maryland chapter of the Guide Dog Foundation for the Blind, for twelve days of fundraising over the 2020 holiday season. Their goal was to raise enough money through their "Twelve Days of Giving" to help Terps Raising Pups adopt their third guide dog, with funds used to sponsor a puppy and help cover the first year of life and training. They also encouraged participants to shop the Terps Raising Pups Amazon wish list, filled with approved puppy toys.
To increase awareness, each day the network featured a different pup on their social media pages and shared a few fun facts about them and their raiser(s). That same pup and their raiser(s) also took over the Alumni Association's Instagram story for a "day in the life of a guide dog." Followers got to see how the puppies learn commands and cues, how they interact with other dogs and humans, and more. As you could expect, this social media activity was incredibly popular and engagement skyrocketed.
At the end of the twelve days, the network successfully raised over $1000 - exceeding the amount that Terps Raising Pups needed to adopt a third guide dog - and had enough toy donations that each pup in the program was able to receive a new toy. The third pup arrived on campus in February and because of our involvement, Terps Raising Pups surprised us by naming the pup Riggs, after the name of our building, the Samuel Riggs IV Alumni Center. Over the summer a few network board members did a COVID-safe meet up at the Marine Corps War Memorial with Riggs and his raiser. Due to the incredible success of "Twelve Days of Giving" we are honored to present the 2021 Do Good Service Award to the D.C. Terps Alumni Network.
Event of the Year: Sound on Series
The Sound On Series (S.O.S) was a virtual event series hosted over the past year by a variety of alumni networks. The series focused on a variety of topics aimed to help alumni form connections and find support during the COVID pandemic. This multi-network collaboration was coordinated by members from the Baltimore, Washington D.C., Philadelphia, Montgomery County, Chicago and Northern Virginia alumni networks. S.O.S. consisted of four virtual sessions, each covering a different topic and featuring alumni experts, along with a moderator who encouraged attendees to turn their sound on and join the conversation. On average, each event had 30 participants - the perfect size to allow for meaningful participation. The series was a big success because it was able to create connections with alumni across networks during a time of major disconnection, while focusing on areas of self-care and giving a voice to alumni experts. We are pleased to honor the Sound on Series with our 2021 Event of the Year award.
Interested in getting more involved in your community or becoming a volunteer leader? Learn more here or contact Angela Dimopoulos, adimop@umd.edu
###
The Alumni Blog connects you with the latest at UMD. Check out articles on advancing your personal and professional goals, elevating your UMD pride, and celebrating Terp traditions, legacies and accomplishments. For even more content, follow the Alumni Association on Facebook, Instagram, Twitter, LinkedIn and YouTube. Become a UMD Champion to receive monthly shareable pride points, news and more straight to your inbox.