Home
About Us
News & Stories
Angela Sun '23: Helping 'Every Child' get ahead
Angela Sun '23: Helping 'Every Child' get ahead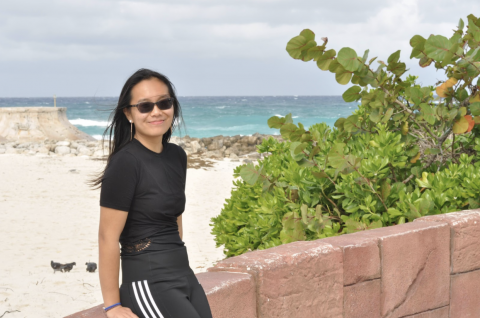 By Kimberly Marselas '00
As Angela Sun '23 embarked on a fall semester that included organic chemistry, thermodynamics and Spanish grammar and composition, she made sure to leave room on her calendar for another challenging endeavor: a tutoring organization supporting about 90 families in the Maryland suburbs.
Sun founded The Every Child Project (also known as TECP) last spring to match university students with younger children who could benefit from individual tutoring during extended remote learning necessitated by the COVID-19 pandemic.
TECP grew this fall thanks to word of mouth and the addition of enrichment activities. Sun continues to help oversee the project's organizational structure and tutor her own batch of students about once a week.
"In the online environment, it's so easy to disconnect," Sun says. "They (students) kind of see us as someone they can come to with problems, whether they be purely academic or if they're just stressed."
As a high school junior growing up in Montgomery County, Sun worked in the university's bioengineering labs and was wowed by campus facilities, including the nuclear reactor in the A. James Clark School of Engineering.
The Banneker Key Scholarship recipient is studying bioengineering in pursuit of a career as a physician-scientist who treats children.
"Innovation is really important to me," she says. "I don't ever want to have a career where I feel stagnated."
Sun calls herself a self-sufficient learner, but she acknowledges the challenge remote learning has created for students at all levels. Still, she wanted The Every Child Project to focus on youngsters whose needs span various academic subjects because they might benefit the most from one-on-one tutoring opportunities.
"They need a certain amount of foundational skills: math, English, basic literacy," Sun says. "Those enable them to succeed later."
Like many high schoolers, she had earned required community service hours by tutoring classmates. She found plenty of willing volunteers — some experienced, and some not — among peers at the university and quickly built a network that now includes 80 some tutors.
"Meeting with Angela and the other leaders of TECP, I was impressed with their commitment to providing free tutoring and their aspirations to reach out to communities in which many students might not be able to afford additional support — support that all students need during the pandemic and its disruption to traditional learning," says Daniel Levin, Ph.D., an associate clinical professor in the College of Education who sponsored the new campus organization.
Sun is a member of the Integrated Life Sciences living-learning community and volunteers as experience leader for the Alternative Breaks program. During COVID, she has participated in virtual dialogue sessions that underscore Alternative Break's social justice mission.
Despite doing so much online, you'll still find Sun on campus, continuing in-person lab work. She is part of a research team studying endothelial cells — the kind that line the body's blood vessels — to better understand factors driving transport across the blood brain barrier and how these may be targeted to address Alzheimer's and other diseases.
The Alumni Blog connects you with the latest at UMD. Check out articles on advancing your personal and professional goals, elevating your UMD pride, and celebrating Terp traditions, legacies and accomplishments. For even more content, follow the Alumni Association on
Facebook
,
Instagram
,
Twitter
,
LinkedIn
and
YouTube
. Become a
UMD Champion
to receive monthly shareable pride points, news and more straight to your inbox.
Student Spotlights introduces you to current UMD students doing incredible things on campus, in their communities, and beyond. If you know of a student who would be a good feature for this blog series, please reach out to Lauren Norris.