Home
About Us
News & Stories
Doing Good with Julie Rosenthal '81
Doing Good with Julie Rosenthal '81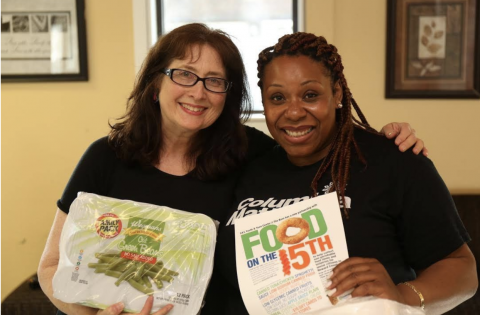 Rosenthal (left) with volunteer Safire Windley.
By Allison Eatough '97
As the nation's first Do Good campus, the University of Maryland aims to educate and inspire a Do Good generation of students to apply their education, skills and values to make an impact on the great societal challenges of our time. It is rooted in our land-grant mission of putting knowledge into practice for social and economic betterment. Click here to learn more.
Julie Rosenthal '81 started Food on the 15th, a nonprofit food collection and delivery program for low-income older adults, after a simple breakfast conversation with her then 9-year-old daughter, Jenny.
"Jenny came down one morning and said, 'There's nothing to eat in our house,'" Rosenthal recalled. "I said, 'Sweetie, there's plenty to eat. There are people in our county who really don't have anything to eat.'"
Rosenthal said Jenny looked puzzled and then asked, "Why don't they look in the refrigerator? Why don't they look in the pantry?"
"They're empty," Rosenthal replied.
The conversation stayed with Rosenthal all day, and that night, before she fell asleep, the concept for Food on the 15th was born.
"I wanted to teach my kids (Jenny Mandl '19 and Michael Mandl '17) that no matter what age they were, they could make a difference in their community and that you don't have to be financially wealthy like Bill Gates to make a difference," Rosenthal said. "Even if you have no money at all, donate your time, your energy and your creativity."
In 2006, Rosenthal and students at her daughter's elementary school began collecting, sorting, bagging and then delivering non-perishable food for low-income, older adults living in Howard County. Rosenthal previously worked at Family and Children's Services of Central Maryland, where she met several low-income older adults living off Social Security checks.
"Those checks ran out mid-month," Rosenthal said. "We provide food around the 15th of the month that tides the person over until their next check arrives."
The all-volunteer program, which includes Rosenthal's husband, Dan Mandl '79, quickly expanded to other schools and area churches. To date, Food on the 15th has collected and delivered more than 55,000 free bags of groceries to area seniors - all while operating on "zero dollars" overhead since all foods and time are donated, Rosenthal said. Among the items included: Canned tuna, peanut butter, jelly, unsweetened cereal, tomato sauce and rice.
"We have two categories," Rosenthal said. "You can either get diabetic-friendly food or regular food. So the kids not only learn about putting together nutritionally balanced bags of food, they also learn about what foods are healthy and safe for people with diabetes."
Residents are thrilled to receive the extra help, she said.
"They say it really helps them make ends meet," Rosenthal said. "One gentleman told me that each month when we come, it's just like Christmas."
While COVID-19 has impacted the ability to collect and bag donations at school, volunteers are finding ways to make it work.
"We have an amazing team of high school students, community volunteers and churches who are collecting, bagging and delivering," she said.
It all comes back to the "power of one," Rosenthal said.
"The power of one is huge," she said. "It's one more person sharing the information about a food drive, one more person donating a non-perishable item, just one more person doing anything… When you put all that food together from individual food drives, you can feed an entire building of people."
###
The Alumni Blog connects you with the latest at UMD. Check out articles on advancing your personal and professional goals, elevating your UMD pride, and celebrating Terp traditions, legacies and accomplishments. For even more content, follow the Alumni Association on Facebook, Instagram, Twitter, LinkedIn and YouTube. Become a UMD Champion to receive monthly shareable pride points, news and more straight to your inbox.