Home
About Us
News & Stories
EnTERPreneur Award: David C. Quattrone MBA '05
EnTERPreneur Award: David C. Quattrone MBA '05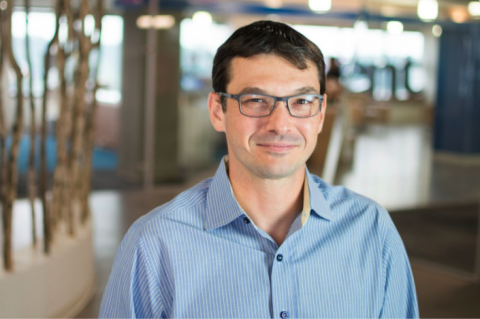 By Allison Eatough '97
When the COVID-19 pandemic hit, entertainment and hospitality businesses around the world braced for impact.
But David Quattrone MBA '05, co-founder and chief technology officer of Cvent, didn't flinch. His software-as-a-service company, which specializes in meeting, event and hospitality management, had been through tough times before.
Quattrone and partners Reggie Aggarwal (CEO and founder) and Chuck Ghoorah (president of worldwide sales and marketing) launched the company in 1999 in the middle of the dotcom bubble, a time when investors around the world pumped money into internet-based startups in the U.S. Initially, the company found success focusing on online event registration. When the dotcom bubble burst in 2001, the team learned to pivot, Quattrone said.
"We were on the verge of bankruptcy, so we hunkered down, went from 130 employees to about 22 and just grinded it out," said Quattrone, winner of this year's Alumni Excellence EnTERPreneur Award. "With most entrepreneurial success stories, there are ups and downs. You get knocked down eight times, you get up nine. It's never exactly the story that you expected."
Using the few funds Cvent had left, the company began exploring and creating new products to expand its platform. In 2007, it launched the Cvent Supplier Network, a platform that allows event planners to find venues, request quotes and book spaces that match their specifications. Over the years, the company also added software for data security, payment processing, event marketing, budgeting, website design, mobile event apps and even seating arrangements.
"Let's say you want to hold a trade show or conference at a hotel," Quattrone said. "We basically have software for you to communicate back and forth with hotels in real time about what you need and what you want your event layout to look like."
Then in 2020, just months after the COVID-19 virus forced many businesses to close, Cvent pivoted again and added solutions to support virtual and hybrid events.
"That's been a huge success for us," Quattrone said. "We had to take our entire engineering team and shift them toward new technology to help deliver what our customers needed. People use our software to manage small online webinars all the way up to large hybrid conferences."
Today, Cvent has 4,000+ employees around the world.
Quattrone credits UMD with helping him expand his and others' entrepreneurial visions.
"That's why I'm still involved with the university," he said. "I go back to the Dingman Center for Entrepreneurship and talk with students, and I'm involved with the Pitch Dingman Competition, where student entrepreneurs compete for seed funding and access to venture development resources."
Quattrone and his wife, Robyn, even sponsored one of the competition's three prizes, which helped total funding for the competition to reach $70,000.
"Our value proposition to our students is that we can connect them to an experienced founder or investor who has been in their shoes," said Holly DeArmond MBA '17, managing director of the Dingman Center. "We could not deliver on our mission without alumni like David. He is generous with his time and treasure because he believes in what we are doing at the Dingman Center, and he is energized by our students. He knows firsthand the kind of support founders need to launch a company, and he is always open to supporting Terp entrepreneurs."
###
The Alumni Blog connects you with the latest at UMD. Check out articles on advancing your personal and professional goals, elevating your UMD pride, and celebrating Terp traditions, legacies and accomplishments. For even more content, follow the Alumni Association on
Facebook
,
Instagram
,
Twitter
,
LinkedIn
and
YouTube
. Become a
UMD Champion
to receive monthly shareable pride points, news and more straight to your inbox.