Home
About Us
News & Stories
Finding Passion and Potential in the Unexpected
Finding Passion and Potential in the Unexpected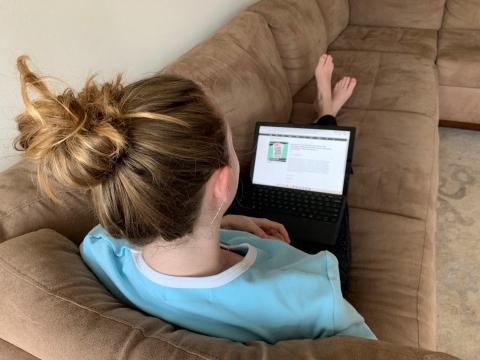 By Jessica Woodard '21
The Alumni Association wouldn't exist without the strong community of Terps - our alumni, current students, family members, faculty and staff. Their contributions to the Alumni Blog offer unique and fresh perspectives on everything from career advice, binge-worthy TV shows and podcasts, tackling life after graduation and more.
As a junior at the University of Maryland, I am regularly looking for career advice on how to approach entering the current workforce after I graduate next year. To me, the whole concept seems a little daunting, but by hearing others about their career experiences and advice, I feel more prepared to enter the workforce and build my career.
I have found great career advice from "Leave Your Mark," the podcast by Terp alumna Aliza Licht '96. This podcast is based on Aliza's best-selling book, "Leave Your Mark," where she discusses career development through her personal experiences. Her podcast, started in 2019, is an excellent addition to her book, where she shares new career advice through conversations with her aspirational and inspirational friends.
Her podcast provides additional advice to individuals, like me, on a variety of topics, including: how to communicate and build your brand, guidance on how to enter the current work environment, understanding where personal and professional lines get blurred and understanding the importance of having a strong sense of self.
I recently listened to an episode called "Marc Balet on a Decade with Andy Warhol, Why Listening is the Key to Great Work, and the Importance of Delivering on What You Promise." In this episode, released March 1, Aliza interviews Marc Balet about his experience working with Andy Warhol and how his career developed as a whole.
Marc really highlights the challenge of determining what you want out of your career. Marc went into architecture after graduation and even won the Prix de Rome at 22 years old. However, he realized that architecture was not for him and so he began his career with Andy Warhol and the magazine, "Interview." In this episode, Marc and Aliza discuss finding your way into the working world and determining the career you want to have. They also highlight the importance of listening and delivering on what you promise.
My top 5 take-aways from this episode:
Value the connections that you make.
Marc gained a lot of career development through the connections he made with individuals in the field. Andy Warhol gave him his job at "Interview," Fran Lebowitz helped him advance his career, and Derek Jarman served as his mentor.
Hard work pays off.
While working for Andy Warhol at "Interview," Marc also worked for Vogue Patterns. He successfully held both jobs and ran between both locations and job sites daily. This work helped him get recognized in both jobs for his hard work and commitment.
Listening is the key to great work.
Follow through and listen when people are talking. It shows that you value what they are saying and allows you to learn better.
Follow through and deliver on what you promise.
Following this idea, it shows commitment to the task and initiative.
Pay back the help you have received in your career.
Marc received a lot of help to start his career. Some of this help came through introductions or from others who offered advice and criticism. He valued all the help that he received and paid it forward by helping the next generation of individuals entering the workforce.
​###
The Alumni Blog connects you with the latest at UMD. Check out articles on advancing your personal and professional goals, elevating your UMD pride, and celebrating Terp traditions, legacies and accomplishments. For even more content, follow the Alumni Association on Facebook, Instagram and Twitter.