Home
About Us
News & Stories
Friday Five: Dom Rabrun '10 Teaches Terps How to Draw Testudo
Friday Five: Dom Rabrun '10 Teaches Terps How to Draw Testudo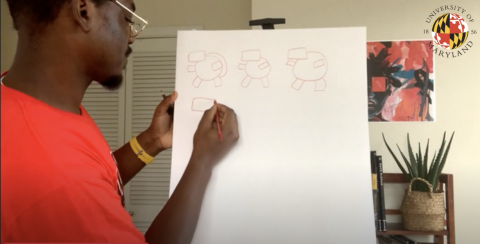 Terps After Maryland:

"Meshal DeSantis '12 joined the National Wildlife Federation as communications director. DeSantis most recently worked in communications at PL+US: Paid Leave for the United States and the Carnegie Endowment for International Peace." From Terp Magazine's Class Notes
Welcome to the Friday Five, a roundup of the best your Alumni Association and other UMD communities have to offer. From the latest events to fun facts, here's essentials in five categories for you to check out this weekend.
1.

What's Happening




- Wellness Week - May 2-8
Join us for a week's worth of events to help you #win at health, including fitness classes, mental health, healthy habits and pain relief. All Terps who register for any Wellness Week session will get access to a wellness site full of health resources. Also check out two new events added to the Wellness Week schedule: Eating for Your Health and A Seat at the Table: Mental Health Professionals. SEE EVENTS
- Living Virtually, Thinking Globally with Van Jones -
May 3 | 7 p.m. EDT
Omicron Delta Kappa hosts a Drury Bagwell Lecture on social justice, police reform and the future of American politics, featuring CNN Host and Dream Corps Founder Van Jones. In addition to his work as a CNN political commentator, Jones is a social entrepreneur, an Emmy Award-winning producer and a New York Times best-selling author. REGISTER
- Kicking the Bucket List - May 4 | 6 p.m. EDT
Join Gail Rubin '80 to learn practical ways to downsize excess goods, organize information for your executor and plan for end-of-life issues. Rubin is a Terp and a Certified Thanatologist – that's a death educator – who "knocked 'em dead" with her TEDxABQ talk "A Good Goodbye." REGISTER
- Do Good Month - April
Take part in the fearless Terp tradition of giving back - volunteer with fellow alumni in a series of regional and virtual programs. Show us how you give back by using #DoGoodUMD on Instagram and tagging us @maryland_alumni. VOLUNTEER OPPORTUNITIES
*This week's Do Good Action Step: Raise your voice on social media to support the university and its initiatives as a UMD Champion.
2. Quotables

- Focusing on Your Passions, with Matt Fan '20
"This class of 2020 alumnus is experiencing a new life on the West Coast. He is using his skills as an engineer to fuel some of his newly found hobbies." Spencer Friedman '22, Alumni Blog; Read More
- UMD Accelerates Emissions-Cutting Goal
"The University of Maryland is redoubling its efforts to fight climate change, committing to carbon neutrality by 2025 through a mix of infrastructure improvement, electric vehicle purchases and targeted investments in sustainability." Liam Farrell, Maryland Today; Read More

- UMD Dining Services Previews Fall Eco-Friendly Dishes in Tasting Series
"The University of Maryland's Dining Services culinary team is offering a series of tastings — from tuna tartare to vegan tinga tacos — that are compliant with the Cool Food Pledge, a global initiative to reduce greenhouse gases tied to food production." Christine Zhu, The Diamondback; Read More
- Celebrate the Class of 2021
Join your Alumni Association to celebrate and congratulate the Class of 2021! Share a sentiment and a single word of well wishes and/or advice to be shared with members of this spring's graduating class. SHARE HERE
- Weekend Fun - Learn to Draw Testudo
Missed Maryland Day? You can still learn how to draw Testudo from art director and animator Dom Rabrun '10. CHECK IT OUT
- President Pines' Investuture Ceremony
Watch the official investiture ceremony of President Pines, the 34th president of the University of Maryland. WATCH
- Your Terp Community - Read STYLUS 2020
STYLUS is an undergraduate journal of poetry, prose and art for the University of Maryland. Read their 2020 digital edition for a dose fo artistic inspiration. READ STYLUS 2020
- Your Wellness Wakeup Call
Wellness Week starts this Sunday, May 2. To prepare, take Cathy Richards' '88, M.A. '91 Wellness Wakeup Call Quiz to identify key areas of improvement for your health. TAKE QUIZ
4.

Let's Get Social
5.

Friendly Reminders
- Your Membership Impacts University Rankings
Did you know that Alumni Association memberships directly impact the University of Maryland's rankings? Because of our alumni support, Maryland has been recognized as No. 19 among national public universities in
U.S. News & World Report Best Colleges
.
Your membership makes it happen. Become a member by June 30 and your contribution will count towards the 2020-2021 rankings. Receive our gorgeous watercolor print of McKeldin Mall as our gift to you.
JOIN TODAY
This week's featured job posting from the
Terrapins Connect Job Board
:
Pfizer, a modern leader in pharmaceutical and medical solutions, is searching for a Manager, Rare Disease RWE Scientist.
That's it for this week, Terps. Make sure to check back with us every Friday, and update your information in the alumni directory to always receive the latest from your Alumni Association. Have a lovely weekend!
###
The Alumni Blog connects you with the latest at UMD. Check out articles on advancing your personal and professional goals, elevating your UMD pride, and celebrating Terp traditions, legacies and accomplishments. For even more content, follow the Alumni Association on Facebook, Instagram, Twitter, LinkedIn and YouTube. Become a UMD Champion to receive monthly shareable pride points, news and more straight to your inbox.