Home
About Us
News & Stories
Friday Five: Maryland Campus Star Power
Friday Five: Maryland Campus Star Power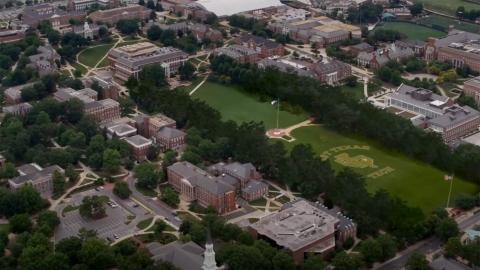 Terps After Maryland:

"Audrey Awasom '18 was named to DC Inno's 2020 25 Under 25. She is the founder and CEO of Noble Uprising, a nonprofit that helps provide job opportunities and readiness training to women experiencing homelessness and unemployment." From Terp Magazine's Class Notes
Welcome to the Friday Five, a roundup of the best your Alumni Association and other UMD communities have to offer. From the latest events to fun facts, here's essentials in five categories for you to check out this weekend.
1.

What's Happening
- Do Good Month - April
Take part in the fearless Terp tradition of giving back - Volunteer with fellow alumni in a series of regional and virtual programs. Show us how you give back by using #DoGoodUMD on Instagram and tagging us @maryland_alumni. VOLUNTEER OPPORTUNITIES
*This week's Do Good Action Step: The American Red Cross is experiencing a severe blood shoratge, especially in light of the COVID-19 pandemic. Donate to saves lives.
- Terrapins Connect Job Board
The Terrapins Connect alumni only job board is a one-stop shop for your career needs. You can search for jobs posted by your fellow Terps, network with alumni currently working at organizations, connect directly with the Terp referral or hiring managers, and post your own job openings easily and effortlessly. To get started, log in to your Terrapins Connect Profile and click "Opportunities" on the upper panel. FIND JOBS
- Volunteer Board Recruitment
Wherever you are - in the world, in your career, in your life - you're a Terp forever. No matter what, your Alumni Association is here to help you find your Terp family. Interested in ledership positions with an alumni network? Apply to become a network board member. REGIONAL NETWORKS | AFFINITY NETWORKS
2. Quotables

- Juneteenth Declared a Holiday Across USM Institutions
From University President Darryll J. Pines: "From the very first day of my presidency, I have made one of my top priorities the creation of a more inclusive and multicultural environment on our campus. Since becoming president, my administration has worked with our community to prioritize and amplify this work: partnering with many student leaders on critical issues, honoring Maryland trailblazers and pursuing an antiracist agenda." Maryland Today Staff, Maryland Today; Read More
- Angela Sun '23: Helping "Every Child" Get Ahead
"As Angela Sun '23 embarked on a fall semester that included organic chemistry, thermodynamics and Spanish grammar and composition, she made sure to leave room on her calendar for another challenging endeavor: a tutoring organization supporting about 90 families in the Maryland suburbs." Kimberly Marselas '00, Alumni Blog; Read More
- $300M Project Set to Reimagine Campus Drive Intersection
"A sleek development for research, offices, retail and housing will rise at the main gateway to the University of Maryland through a new partnership announced this month." Liam Farrell, Maryland Today; Read More
- Weekend Fun - The Diamondback Coloring Book
Tap into your inner artist with the Diamondback's new edition of the University of Maryland Coloring Book. Tag us in your cmpleted pages @maryland_alumni, and use the hastag #UMAAxMe. GET COLORING
- Alumni Appreciation - Happy Birthday April Terps!
April showers bring...uh, Terp birthday powers? A happy birthday shoutout to all of our Terps born in April. Here's your April notable Terp - Judith Resnik, born April 5, 1949, was one of many astronauts to graduate from the University of Maryland.
- Your Terp Community - Get Lit
Connect with fellow bookworms through the University of Maryland Fiction and Literatue Book Club. Sponsored by the College of Arts and Humanities, this free virtual book club finishes a new read about every two months. From bestellers to timeless classics, enjoy great stories with Terps. JOIN BOOK CLUB
- #TerpTrips Trivia
Travel is on, and your Alumni Association has many COVID-safe adventures coming up in 2022. Here's a little trivia for you - This trip features a country famous for canals, most of which were created in the sixteenth and seventeenth century for defense. Where are you? Take a guess, then see the answer at the bottom of this post.
A. Japan
B. Holland
C. Italy
D. Egypt
- Special Deals - The Hotel
Relax and unwind at The Spa, a luxury boutique getaway at The Hotel at the University of Maryland. Terps can enjoy upgraded services during mid-week visits, including complimentary hot stone upgrades to signature masages, complimentary gel polish upgrades to signature manicures, and more. And just for Alumni Association members -
enjoy 15% off hotel reservations. PLAN YOUR GETAWAY
4.

Let's Get Social
5.

Friendly Reminders
- Your Membership Impacts University Rankings
Did you know that Alumni Association memberships directly impact the University of Maryland's rankings? Because of our alumni support, Maryland has been recognized as No. 19 among national public universities in
U.S. News & World Report Best Colleges
.
Your membership makes it happen. Become a member by June 30 and your contribution will count towards the 2020-2021 rankings. Receive our gorgeous watercolor print of McKeldin Mall as our gift to you.
JOIN TODAY
That's it for this week, Terps. Make sure to check back with us every Friday, and update your information in the alumni directory to always recieve the latest from your Alumni Association. Have a lovely weekend!
Trivia Answer: B. Holland. Want to go? Check out the Alumni Association's Dutch Waterways trip.
###
The Alumni Blog connects you with the latest at UMD. Check out articles on advancing your personal and professional goals, elevating your UMD pride, and celebrating Terp traditions, legacies and accomplishments. For even more content, follow the Alumni Association on Facebook, Instagram, Twitter, LinkedIn and YouTube. Become a UMD Champion to receive monthly shareable pride points, news and more straight to your inbox.