Home
About Us
News & Stories
Friday Five: Maryland's First On-Campus Vaccine Clinic
Friday Five: Maryland's First On-Campus Vaccine Clinic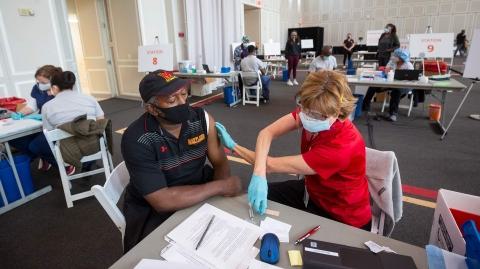 Terps After Maryland:

"Jonathan Maa '18 was named to DC Inno's 2020 25 Under 25. He is the CEO of Maxim Biomedical, his family's medical diagnostics company in Rockville. The company is developing two point-of-care tests for health care providers seeking to screen COVID-19." From Terp Magazine's Class Notes
Welcome to the Friday Five, a roundup of the best your Alumni Association and other UMD communities have to offer. From the latest events to fun facts, here's essentials in five categories for you to check out this weekend.
1.

What's Happening
- Terrapins Connect Job Board
The Terrapins Connect alumni-only job board is a one-stop shop for your career needs. You can search for jobs posted by your fellow Terps, network with alumni currently working at organizations, connect directly with the Terp referral or hiring managers, and post your own job openings easily and effortlessly. To get started, log in to your Terrapins Connect Profile and click "Opportunities" on the upper panel. FIND JOBS
- Innovate Maryland - April 21 | 7 p.m. ET
A celebration of the university's innovators, entrepreneurs, inventors and creatives, this signature event recognizes the transformational impact made by our faculty, students and alumni, including awards for Invention and Startup of the Year. DETAILS
- Do Good Month - April
Take part in the fearless Terp tradition of giving back - Volunteer with fellow alumni in a series of regional and virtual programs. Show us how you give back by using #DoGoodUMD on Instagram and tagging us @maryland_alumni. VOLUNTEER OPPORTUNITIES
*This week's Do Good Action Step: Food banks, food pantries, and meal programs in the Feeding America network are continuing to do what they do best - feed people in need. Volunteers are critical to providing food to everyone during this difficult time. Learn more about volunteering with Feed America at feedingamerica.org.
- Volunteer Board Recruitment
Wherever you are - in the world, in your career, in your life - you're a Terp forever. No matter what, your Alumni Association is here to help you find your Terp family. Interested in leadership positions with an alumni network? Apply to become a network board member. REGIONAL NETWORKS | AFFINITY NETWORKS
2. Quotables

- Pilot On-campus COVID Vaccine Clinic Targets Essential, Vulnerable Employees
"Frontline staff working in dining halls, residence halls and other facilities on campus rolled up their sleeves today at the University of Maryland's first COVID-19 vaccine clinic." Chris Carroll, Maryland Today; Read More
- Doing Good with Ashley Henyan '02
"That experience prompted Henyan to accept a digital communications job with the Red Cross. After working for the organization in California and Georgia, Henyan became the executive director of the Red Cross' Lowcountry South Carolina chapter in 2019." Allison Eatough '97, Alumni Blog; Read More
- Alexsis Rubio's Breakout Season Has Her Poised to Lead Maryland Gymnastics Next Year
"For Alexsis Rubio, Jan. 25, 2020 was a night to remember. In a close meet against Ohio State and Central Michigan, the ticket to a shot at challenging the Buckeyes laid in her performance on the vault during the Terps' final rotation. She would need a near-perfect score to help Maryland try and pull in front of Ohio. And she delivered." Steven Ioannidis, The Diamondback; Read More
- Weekend Fun - Enjoy Safe Outdoor Dining
The Diamondback lists the best COVID-safe spots for fresh food and fresh air. CHECK IT OUT
- Alumni Appreciation - Terp Tips
Your fellow Terps are a rich source of advice and resources. Terp Tips shares nuggest of wisdom from alumni. Today's tip comes from Co-Director of Interior Design at Hickok Cole, Amy Shavelson '00, gave use some brilliant tips on upgrading your work-from-home situation. Here's one for wellness: Try to get up every half hour for a quick ten-minute walk. The easy exercise will do wonders for your mind and your body.
- Your Terp Community - Pride Point Trivia
Pop quiz - One Maryland coach has recently made history with a record number of team wins. Who are they? Take a guess, and then see the answer at the bottom of this post.
A. Laura Harmon
B. Mike Locksley
C. Brenda Frese
D. John Tillman
- #TerpTrips - Fun Facts to Make You Sound Worldy
Travel is on, and your Alumni Association has many COVID-safe adventures coming up in 2022. Here's a little fun fact for you about Holland - Did you know the Keukenhof Gardens contains the largest flower garden on Earth? It has approximately seven million bulbs with a total of 800 varieties of tulips, covering an area of 79 acres. Talk about flower power. You can see the gardens for yourself as part of our Dutch Waterways trip. CHECK IT OUT
Interested in another trip? Check out all trips for 2022.
- Special Deals - The Hotel
Relax and unwind at The Spa, a luxury boutique getaway at The Hotel at the University of Maryland. Terps can enjoy upgraded services during mid-week visits, including complimentary hot stone upgrades to signature masages, complimentary gel polish upgrades to signature manicures, and more. And just for Alumni Association members -
enjoy 15% off hotel reservations. PLAN YOUR GETAWAY
4.

Let's Get Social
Audrey Awasom '18 and Anthony Sartori '18
get featured
as part of Do Good Month.
5.

Friendly Reminders
- Your Membership Impacts University Rankings
Did you know that Alumni Association memberships directly impact the University of Maryland's rankings? Because of our alumni support, Maryland has been recognized as No. 19 among national public universities in
U.S. News & World Report Best Colleges
.
Your membership makes it happen. Become a member by June 30 and your contribution will count towards the 2020-2021 rankings. Receive our gorgeous watercolor print of McKeldin Mall as our gift to you.
JOIN TODAY
This week's featured job posting from the
Terrapins Connect Job Board
:
Roundtable Research, the umbrella company for two of the fastest-growing publishers in investment research, is in search of a Managing Editor.
That's it for this week, Terps. Make sure to check back with us every Friday, and update your information in the alumni directory to always recieve the latest from your Alumni Association. Have a lovely weekend!
Trivia Answer: C. Brenda Frese. Frese is now the winningest Maryland women's basketball coach with 500 wins.
###
The Alumni Blog connects you with the latest at UMD. Check out articles on advancing your personal and professional goals, elevating your UMD pride, and celebrating Terp traditions, legacies and accomplishments. For even more content, follow the Alumni Association on Facebook, Instagram, Twitter, LinkedIn and YouTube. Become a UMD Champion to receive monthly shareable pride points, news and more straight to your inbox.