Home
About Us
News & Stories
Friday Five: A New Vision for College Park
Friday Five: A New Vision for College Park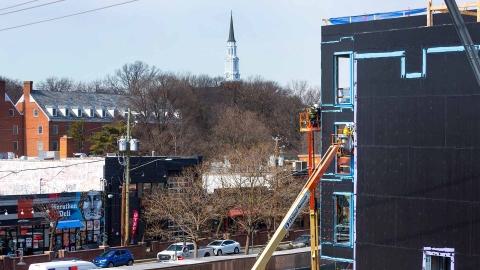 Welcome to the Friday Five, a roundup of the best your Alumni Association and other UMD communities have to offer. From the latest events to fun facts, here's essentials in five categories for you to check out this weekend.
The results are in: Terps miss campus (sad face).
1. What's Happening
- POWER TERPS: FROM COLLEGE PARK TO CAREERS IN TECH - February 24 | 7 p.m. EST
Interested in how an English degree might translate to a research role with Google? Curious to learn how to balance a successful professional life with thriving personal relationships? Join us to hear the stories of three Power Terps who have landed careers with some of the biggest names in tech. REGISTER
- SAY IT LOUD: A BLACK TERPSPECTIVE - February 18 | 7 p.m. EST
Filled with inspirational alumni and endless Terp Pride, the University of Maryland Alumni Association's inaugural Black Alumni Weekend is coming spring 2022. To help you prepare, the Black Alumni Weekend Steering Committee has planned several preview events for 2021. Join us for our premiere event, Say It Loud: A Black TERPspective. Co-sponsored by the University of Maryland Black Terps Alumni Network, this social justice panel will uncover the past and present events that defined Black experiences at the University of Maryland. REGISTER
- SOUND ON SERIES - March 11 | 7 p.m.
Staying Civically Engaged while Socially Distant explores the challenges of civic engagement and community organizing while social distancing. In partnership with Women's History Month celebrations, join us for a conversation with fellow Terp women who are expert organizers for social change. REGISTER
OTHER EVENTS:
- Terp Young Scholars - July 11-30, 2021
- University of Maryland Alumni Network Evening of Quizzo - February 18 | 8 p.m. EST
2. Quotables

- From Video Gaming to Marriage
"After several months of living together, getting to know one another's dishwasher-loading strategies and the exact degree at which they each liked the apartment's temperature kept, Jaison Cooper '11, M.Ed. '14 and Pano Papadatos M.Sc. '13 decided to make a deeper commitment: they opted to start dating." Sala Levin '10, Alumni Blog; Read More
- A New Vision for College Park
"In less than a decade, the University of Maryland and city of College Park could launch a community preservation trust to stabilize neighborhoods and help more employees live in College Park, create more bike paths, and reap benefits from a fully renovated Baltimore Avenue south of University Boulevard as the area continues its progress toward becoming one of the nation's top college towns." Liam Farrell, Maryland Today; Read More
- A Terp Family Affair
"The first time Wendy Olaitan '07 met her future husband, Bernard Olaitan '11, in September 1998, she wasn't quite ready for a relationship. You might understand why—the high school freshman was more focused on getting her homework done." Sala Levin '10, Alumni Blog; Read More
How much do you know about Maryland's Black History? Take our quiz to test your knoweldge.
-
The Ultimate Couple's Experience
The Hotel at the University of Maryland's Valentine's Aphrodisiac Package combines a luxury getaway with a premiere wine and chocolate tasting experience. Relax and enjoy quiet time in the Hotel's beautifully appointed King Deluxe Room featuring premium amenities while you savor aphrodisiac inspired chocolates and paired wines. LEARN MORE
- Get Your Art On
Studio A in the STAMP Student Union offers artistic, self-expression and skill-building creative classes. Many offerings for spring 2021 are virtual, so attendees can attend class from anywhere in the world. Classes and workshops include topics from drawing and painting, dance, yoga, animation, and cooking. View all of the class options at stamp.umd.edu/studioaclasses, and use the code ALUMNI during checkout to get 25% off class registration.
- It's Friday - Serious Campus Love
Terps told us that they miss campus a lot.
H
ead on over to
our
Instagram Stories
for our new Friday question.
4. Let's Get Social
5. Friendly Reminders
- It's Time to Become a UMD Champion
Terps - you've told us you want to know more about getting involved with your Alumni Association. We've got just the program for you - introducing the brand-new UMD Champions. We send you monthly pride points and facts about your alma mater, and you click to share with your social networks. Easy, right? Join a community of like-minded Terps, customize the type of content you want to receive, get access to quarterly UMD Champion sweepstakes, and get an exclusive invitation to our inaugural UMD Champions summit, coming summer 2021. BECOME A CHAMPION TODAY
That's it for this week, Terps. Make sure to check back with us every Friday. Have a lovely weekend!
###
The Alumni Blog connects you with the latest at UMD. Check out articles on advancing your personal and professional goals, elevating your UMD pride, and celebrating Terp traditions, legacies and accomplishments. For even more content, follow the Alumni Association on Facebook,

Instagram

and Twitter.