Home
About Us
News & Stories
Friday Five: Pines Announces Bold Agenda to 'Move Maryland Forward'
Friday Five: Pines Announces Bold Agenda to 'Move Maryland Forward'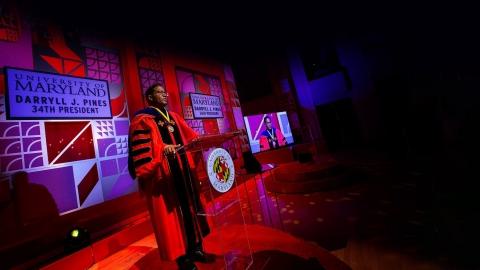 Terps After Maryland:

"Kathlyn Carney '17 is the author of "We Can't Change What We Don't Know: How I Started to Think of Food as Medicine." Carney, who earned a master of education degree, is an educator and Teach for America alum." From Terp Magazine's Class Notes
Welcome to the Friday Five, a roundup of the best your Alumni Association and other UMD communities have to offer. From the latest events to fun facts, here's essentials in five categories for you to check out this weekend.
1.

What's Happening
- A Celebration of Terps: Featuring the Maryland Awards -
April 23 | 7 p.m. EDT
Join Maryland alumni and friends, university faculty and leadership in celebrating and honoring the achievements of six outstanding Terps through a virtual livestream of The Maryland Awards ceremony, broadcasted from the Samuel Riggs IV Alumni Center. RSVP
- Maryland Day - April 24 | 10 a.m. EDT
Maryland Day, the University of Maryland's annual celebration, returns. Participate in demonstrations, tour our beautiful campus, conduct science experiments with everyday household items, get up and dance and even meet baby lambs - all online. And, you'll have a chance to learn how to draw Testudo with Dom Rabrun '10. DETAILS
- Wellness Week - May 2-8
Join us for a week's worth of events to help you #win at health, including fitness classes, mental health, healthy habits and pain relief. All Terps who register for any Wellness Week session will get access to a wellness site full of health resources such as meal-prep templates, virtual workout classes, meditation guides and more. SEE EVENTS
- Do Good Month - April
Take part in the fearless Terp tradition of giving back - volunteer with fellow alumni in a series of regional and virtual programs. Show us how you give back by using #DoGoodUMD on Instagram and tagging us @maryland_alumni. VOLUNTEER OPPORTUNITIES
*This week's Do Good Action Step: Unsure where to start volunteering? Search All for Good to find the opportunities just right for you.
2. Quotables

- At Investiture, Pines Announces Bold Agenda to "Move Maryland Forward"
From President Pines: "Uncertain times require us to be bold. This is our time to reinvent our university. This is the time to examine the future of learning to enhance the student experience; the future of work for faculty and staff to reach a new level of excellence; and a new model of research to accelerate and advance science and human understanding." Maryland Today Staff, Alumni Blog; Read More
- Doing Good with Julie Rosenthal '81
"Julie Rosenthal '81 started Food on the 15th, a nonprofit food collection and delivery program for low-income older adults, after a simple breakfast conversation with her then 9-year-old daughter, Jenny." Allison Eatough '97, Alumni Blog; Read More
- The Latest Scoop
"At yesterday's Pines on Parade event, he helped serve the first scoops of UMD's latest ice cream flavor, TerraPines and Pralines, named in his honor." Annie Dankelson, Maryland Today; Read More
- Weekend Fun - Maryland Day Quiz
How much do you know about Maryland Day? See how many questions you can get right about this iconic UMD celebration. TAKE QUIZ
- #TerpTrips - For the Foodies
One great benefit of traveling the world? Delicious food. Here's a special feature of Venice's cuisine - baicoli, or "ship biscuits," are dry, double-baked biscuits originally made to endure long sailing journeys. Now, they're often dipped in cream and dessert wines. Yum! You can visit Venice through our Mediterranean Palette trip, October 16-26, 2021. CHECK IT OUT
Interested in another trip? Check out all trips for 2022.
- Your Terp Community - Support #TerpBusiness
Sweet tooth, anyone? Try Honeycakes' delicious (and sometimes spiked!) cheesecakes in a jar. Check out their online store, and order one (or a few) to enjoy. Supporting #TerpBusiness.
- College Park Dining - The Hall
Looking for the best bite in College Park? Stop by The Hall CP, located off Route One right behind The Hotel! At The Hall, you'll find a fun and diverse menu in a creative and family-friendly environment. Find out more at thehallcp.com.
4.

Let's Get Social
5.

Friendly Reminders
- Your Membership Impacts University Rankings
Did you know that Alumni Association memberships directly impact the University of Maryland's rankings? Because of our alumni support, Maryland has been recognized as No. 19 among national public universities in
U.S. News & World Report Best Colleges
.
Your membership makes it happen. Become a member by June 30 and your contribution will count towards the 2020-2021 rankings. Receive our gorgeous watercolor print of McKeldin Mall as our gift to you.
JOIN TODAY
This week's featured job posting from the
Terrapins Connect Job Board
:
The Department of Homeland Security is looking for a DEI specialist.
That's it for this week, Terps. Make sure to check back with us every Friday, and update your information in the alumni directory to always receive the latest from your Alumni Association. Have a lovely weekend!
###
The Alumni Blog connects you with the latest at UMD. Check out articles on advancing your personal and professional goals, elevating your UMD pride, and celebrating Terp traditions, legacies and accomplishments. For even more content, follow the Alumni Association on Facebook, Instagram, Twitter, LinkedIn and YouTube. Become a UMD Champion to receive monthly shareable pride points, news and more straight to your inbox.