Home
About Us
News & Stories
From DMs to Dream Job
From DMs to Dream Job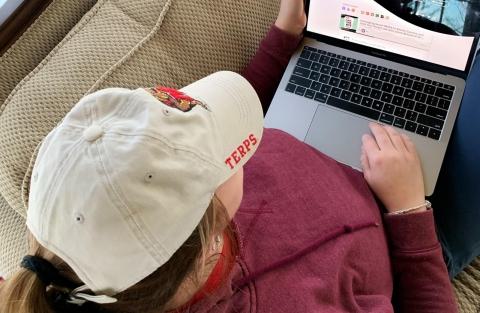 By Abby Humbel '21
The Alumni Association wouldn't exist without the strong community of Terps - our alumni, current students, family members, faculty and staff. Their contributions to the Alumni Blog offer unique and fresh perspectives on everything from career advice, binge-worthy TV shows and podcasts, tackling life after graduation and more.
As a current student at UMD one of the things that inspires me most is hearing success stories of Terp alumni. I am studying communication/public relations, and I found the "Leave Your Mark" podcast hosted by fellow Terp, Aliza Licht '96 (B.S., biological sciences) that spiked my interest. Aliza is the founder and current president of LEAVE YOUR MARK LLC with a background in fashion, branding and communication (specifically digital). In her podcast series, Aliza discusses how to build your personal brand and succeed in your career.
I listened to an episode titled: "Leveraging Social Media to Switch Careers and Land Your Dream Job with Jenna Blackwell (From Office Manager to Dressing Celebrities)" and felt encouraged about living in this rapidly growing digital age. As technology advances, and most of us are using technology now more than ever during social distancing, we should take advantage of this opportunity to build our personal brands.
In this episode Aliza speaks with guest, Jenna Blackwell who she virtually met through Twitter in 2010. At the time Aliza was working on a communications team for DKNY, while Jenna was working at an artificial turf company in Texas with hopes of joining the fashion world. Aliza and Jenna tell the story of how their "internet friendship" led to Jenna's dream job.
During her days at the turf company, Jenna started a fashion blog in her spare time where she developed a sarcastic, entertaining social media voice. Jenna shared a blogpost via Twitter where Aliza (aka "DKNY PR Girl,") discovered Jenna's post and retweeted it. From there the two became friends through direct messaging, and Jenna eventually asked Aliza for some advice on how to transform her career.
Her advice: if she wanted to work in fashion, she needed to come to NYC. After that, Jenna uprooted her life and moved to the city, finding a cheap apartment on Craigslist with random roommates and a coat check job to pay the bills. She continued building her social media presence and finally landed a social media PR job. Jenna later jumped at an opportunity to apply for a job posting Aliza had at DKNY, and she landed her dream fashion job — the rest is history.
Here are my top 5 takeaways from this story, and how they can help you:
Your social media presence DOES matter (now more than ever)
Jenna's voice on social media gave her the opportunity to connect with someone who was a big name in the industry she dreamed of working in. By building a personal brand and standing out to people with large followings, you never know where one small post may lead. Take the opportunity now to update your Linkedin, Twitter, Instagram, TerrapinsConnect, maybe even an online portfolio— the options are endless!

Your network connections are crucial
As in Jenna and Aliza's story, making personal and professional connections is so important. Jenna's name stuck out for the DKNY position among hundreds of others because Aliza knew her. Although you may not always be so lucky to land your dream job or internship just by knowing someone, networking still leads to a lot of good opportunities, such as: mentor/mentee relationships, contacts for project assistance, access to your connection's entire network of people and a good recommendation contact (the list goes on).

Don't be afraid to be BOLD
Despite her parents' skepticism, Jenna made a huge move from Texas to the Big Apple, and it paid off. If you want to grow in your career, be bold and take chances.

Never assume anything - work hard
Jenna went through the normal application process for the job at DKNY and submitted everything like any other candidate would. Jenna could have just reached out to Aliza about the position (which she notes in the podcast), but Jenna did not seek any special treatment. Your network is there to help you, but never assume that you are the best candidate just because of a connection or identity. As important as networking is, hard work is even more important for success.

Take advantage of FREE resources
There are so many resources out there for career/school/personal help! Terrapins Connect is a great professional tool for all Terps to grow their network by finding a mentor or mentee. Jenna had no formal social media training when she set up her blog and Twitter accounts, but she figured it was a free tool, so, why not? There is nothing to lose and everything to gain from all of the online resources we have. Keep learning, keep teaching, keep working and keep being Fearless.
###
The Alumni Blog connects you with the latest at UMD. Check out articles on advancing your personal and professional goals, elevating your UMD pride, and celebrating Terp traditions, legacies and accomplishments. For even more content, follow the Alumni Association on Facebook, Instagram and Twitter.