Home
About Us
News & Stories
Get Involved: Seven Ways to Engage with Your Alumni Association
Get Involved: Seven Ways to Engage with Your Alumni Association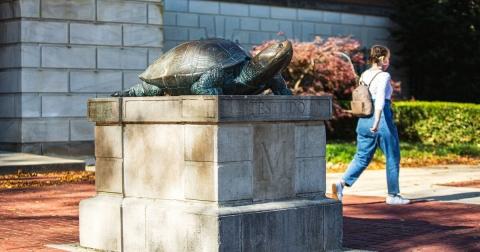 Welcome to your one-stop shop for ways to connect with your Alumni Association. Choose your adventure below. #StayFearlessUMD
1. Update Your Information in the Alumni Directory
The Alumni Directory is a crucial tool that helps us get the right programs and events to you. Take five minutes to update your information here to keep up to date with the latest at your Alumni Association.
Introducing the brand-new UMD Champions. Our Maryland bragging program is an opportunity to share your UMD pride with the world. We send you curated and tailored pride points, news and more about Maryland, and you simply click to share with your social networks. UMD Champions get access to special quarterly giveaways, swag and more.
3. Join the Alumni Association
As an Alumni Association member, you help support and elevate the next generation of Terps. Join now for access to exclusive progamming and resources, members-only swag and giveaways.
You have an extensive network of Terps at your fingertips. Expand your social circle through the latest events, programs and news in your area, affinity or interest. Go here to find your network.
We're looking for stories on how you've been positively impacted by the Alumni Association. Submit your experience here for a chance to be featured on the Alumni Blog. Also make sure to check out the latest posts on the Alumni Blog.
Are you a #TerpBusiness owner? Submit your business' information here to access a list of Alumni Association business resources during COVID-19 and beyond.
7. Tag Us in Your Best Maryland Photos
We're looking for your best shots of campus, events, pride photos, Terp travel and adventures, and more. Go here to see how to participate. Also make sure to follow us on Instagram, Facebook, Twitter and LinkedIn.
Terrapins Connect is the University of Maryland's community for networking and purposeful connections. Work towards your professional goals by finding mentors and like-minded Terps in your industry.
###
The Alumni Blog connects you with the latest at UMD. Check out articles on advancing your personal and professional goals, elevating your UMD pride, and celebrating Terp traditions, legacies and accomplishments. For even more content, follow the Alumni Association on Facebook, Instagram, Twitter, LinkedIn and YouTube. Become a UMD Champion to receive monthly shareable pride points, news and more straight to your inbox.