Home
About Us
News & Stories
Get Involved: What's Happening at Your Alumni Association, April-June
Get Involved: What's Happening at Your Alumni Association, April-June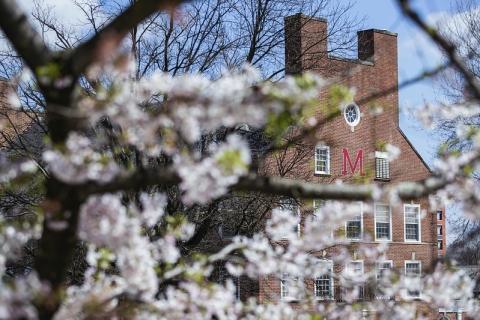 Alumni Signature Events
Check out what's coming up at the Alumni Association over the next three months. Some events won't yet have registration pages, but we'll make sure to update you via email and our social media channels (Facebook, Instagram, Twitter and LinkedIn).
To make sure you're receiving these important notices, take five minutes to update your information in the Alumni Directory and let us know your communication preferences. Also check your email inbox - for Gmail specifically, make sure our email address (alumni@umd.edu) is directed to your primary inbox so you never miss an email from us.
1. Do Good Month - April
April is Do Good Month. Take part in the fearless Terp tradition of giving back - Volunteer with fellow alumni in a series of regional and virtual programs. DETAILS

2. Inauguration of Darryll J. Pines - April 19-24
Celebrate the installation of Dr. Darryll J. Pines as the 34th President of the University of Maryland with a week of events showcasing the University of Maryland's greatness. DETAILS

3. A Celebration of Terps: Featuring the Maryland Awards - April 23
Maryland alumni and friends, university faculty and leadership celebrate and honor the achievements of six outstanding Terps through a virtual livestream of The Maryland Awards ceremony, broadcasted from the Samuel Riggs IV Alumni Center. DETAILS

4. Maryland Day - April 24
Terps enjoy a day of learning, fun and discovery — online! Join us as Maryland Day streams from College Park to wherever you are. DETAILS

5. Wellness Week - May 2-8
This week's worth of programming dedicated to health and wellness includes fitness classes, life coaching, nutrition tips, techniques to help lower stress, and more. Wellness Week registrants will get access to downlodable resources, such as meal planning charts, videos, and recipes. DETAILS

6. Terp Entreprneur Network (TEN) Conference - June 2-4
Details coming soon.

7. Travel Program
Travel is back! Check out our upcoming COVID-safe tripd for Terps. SEE TRIPS

8. Terrapins Connect Job Board
The Terrapins Connect alumni-only job board is a one-stop shop for your career needs. You can search for jobs posted by your fellow Terps, network with alumni currently working at organizations, connect directly with the Terp referral or hiring managers, and post your own job openings easily and effortlessly. To get started, log in to your Terrapins Connect Profile and click "Opportunities" on the upper panel. FIND JOBS

9. Volunteer Network Board Recruitment
Connect with fellow Terps by becoming a volunteer network board leader. LEARN MORE

10. Alumni Association Member Exclusives
- Terrapin Club Terp Trot - April 18-25; As part of the lead-up to Maryland Day, members recieve $5 off the Terrpain Club Terp Trot REGISTER
- Maryland Masterclass - Join this interactive and exclusive member masterclass to learn how to make your money start working for you! REGISTER
- Wellness Week Clean Beauty and Facial Class with Indie Lee - REGISTER
Did you know that Alumni Association memberships directly impact the University of Maryland's rankings? Because of our alumni support, Maryland has been recognized as No. 19 among national public universities in U.S. News & World Report Best Colleges. Your membership makes it happen. Become a member by June 30 and your contribution will count towards the 2020-2021 rankings. Receive our gorgeous watercolor print of McKeldin Mall as our gift to you. Visit alumni.umd.edu/membership to join today.
###
The Alumni Blog connects you with the latest at UMD. Check out articles on advancing your personal and professional goals, elevating your UMD pride, and celebrating Terp traditions, legacies and accomplishments. For even more content, follow the Alumni Association on Facebook, Instagram, Twitter, LinkedIn and YouTube. Become a UMD Champion to receive monthly shareable pride points, news and more straight to your inbox.