Home
About Us
News & Stories
How the Alumni Association Helped Me 'Thrive' with Mentoring with Suzanne Freynik '15
How the Alumni Association Helped Me 'Thrive' with Mentoring with Suzanne Freynik '15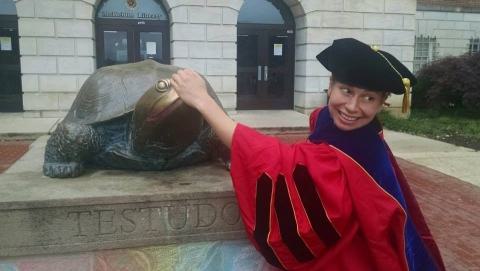 By Allison Eatough '97
Throughout her academic life, mentorships have helped Suzanne Freynik Ph.D. '15 find success.
In college, mentors guided Freynik as she switched her major from engineering to language science – a field she specializes in today.
In graduate school, a mentor taught Freynik how to conduct language science research and supported her as she applied to UMD's Ph.D. program in Second Language Acquisition.
So when she recently saw a UMD Alumni Association email about TerpsThrive, a program filled with ambitious women committed to networking and achieving their goals together, she knew she had to apply.
Freynik, who speaks English, Spanish and Arabic, spent the first few years of her career as a language program evaluation consultant for the Middle East Institute and a research analyst at the Foreign Service Institute School of Language Studies. She also taught academic writing and culture courses at American University.
"I was starting to look around for resources to figure out how to make the next move in my career," she said. "Part of what caught my eye was the TerpsThrive email mentioned mentoring, and I knew I had used mentoring in the past in a way that was helpful to me."
TerpsThrive includes a "one to one" match system, where participants are paired with community members who can help them achieve their goals. Those same participants then serve as mentors to help others achieve their goals.
The program paired Freynik with Pallavi Guha, an assistant professor at Towson University who received her Ph.D. in journalism at UMD, and Lauren Norris, '11, '16, Director, Advocacy & Engagement at the University of Maryland Alumni Association, who is working on her Ph.D.
While they specialized in different fields, Guha and Freynik were both early career academics who recently began teaching, Freynik said.
"I would spend all my energy during semesters on teaching and grading and not getting any other work done," Freynik said. "(Guha) had a system where on certain days she did all her teaching work and then other days she would do her research work… It was good to hear what works for her."
Guha also introduced Freynik to an online writing group, filled with fellow academics.
"They would check in with each other three times a day for 10 or 15 minutes," she said. "They each set a goal for writing and then would say how far they got. Some of them were still finishing their dissertations, while others were on the tenure track."
During one of the check-ins, Freynik shared she was searching for a new job. Members helped her narrow her search and provided tips on everything from interview preparation to effective cover letters. They even suggested emailing the hiring manager before applying for a job she was especially interested in: learning design specialist for The Language Flagship Technology Innovation Center in Hawaii.
Freynik got the job and began working for the center in August of 2020. She credits TerpsThrive for helping her reach her goal.
"The way that TerpsThrive connected me to (Guha's) network and more was just something I couldn't have done otherwise," she said.
To learn more about UMD Alumni Association programs like TerpsThrive, click here.
###
The Alumni Blog connects you with the latest at UMD. Check out articles on advancing your personal and professional goals, elevating your UMD pride, and celebrating Terp traditions, legacies and accomplishments. For even more content, follow the Alumni Association on Facebook, Instagram, Twitter, LinkedIn and YouTube. Become a UMD Champion to receive monthly shareable pride points, news and more straight to your inbox.