Home
About Us
News & Stories
How a Return to SCHOOL Can Prepare Us for a Return to Work
How a Return to SCHOOL Can Prepare Us for a Return to Work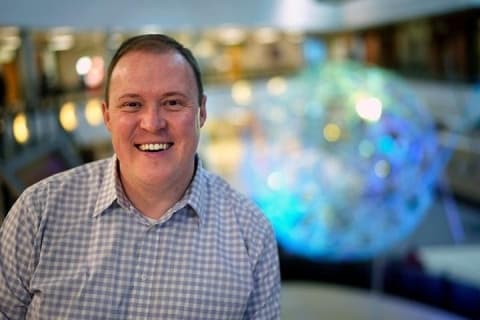 By Chad Ellsworth MA '04
Do you remember what it felt like the first day of school after summer vacation?
Although the physical place might not have changed since you were there, it may have felt like a combination of the familiar and unfamiliar at the same time. It may have been a new classroom, a new teacher, new classmates or perhaps some friends changed schools or moved to new places.
In our early years, we may have experienced somewhat similar transitions at the beginning of the school year, whether we moved to a new classroom, a new school, or even a new town.
Like returning to school (or starting at a new school), many of us may be feeling some combination of cautiousness, excitement, or even fear about returning to the workplace after working from home for so long. Some of us might feel all of those things at different times. We have a few ideas about what we can expect, but we're facing a lot of uncertainty, too.
Nonetheless, it's important to remember that we're all in this together. To that end, we can think about how returning to SCHOOL can guide us through this time of transition as many people start to return to their offices, outside the home.
S - Steadiness - At all times, but even more so in times of change and heightened uncertainty, it is important to have predictable patterns and rhythms to anchor our days, weeks and years. What rituals and values can you embed in your work to provide a sense of certainty in the midst of change?
C - Clarity - Informed by 30 years of global research, the first question Gallup asks employees in its Q12 survey is whether or not they know what is expected of them at work. How can you create or invite clarity in communication, expectations and responsibilities at work?
H - Humanity - If you want to get the best out of people, first look for the best inside of them. Gallup's research proves that high wellbeing predicts high performance. How are you investing into the people you work with and showing you care about them through your actions-day in and day out?
O - Optimization - Once you've invested in building relationships, how are you giving them chances to do what they do best? By inviting opportunities to work together on meaningful projects, you're not only leveraging each other's talents, but also deepening your relationships in authentic, non-cheesy ways. How can you create opportunities for connection through contribution?
O - Openness - One of the outcomes of stronger relationships is a deeper sense of trust, an essential ingredient of creativity and innovation. Creativity rarely arrives in the midst of rigid schedules and strict agendas. Instead, it results from a free, uninhibited exchange of ideas. How can you create formal and informal spaces to facilitate the flow of new ideas?
L - Laughter - None of this is easy, and it's more important than ever that we give ourselves and others permission for a little bit of levity. Research shows that a touch of humor increases one's likability, particularly when people are able to poke a little fun of themselves.
By being determined and diligent in cultivating a culture of steadiness, clarity, humanity, optimization, openness, and laughter, we are empowering the people we work with to be themselves and to be their best.
Chad Ellsworth '04 is an author; professional speaker; career, leadership and life coach. In 2018, he published "Building up without tearing down: How to cultivate heroic leadership in you and your organization." Chad is an Associate Director for the Career Center at Carleton College after serving the University of Minnesota community for more than 15 years in various roles.
Chad is a Board Certified Coach (2015), Gallup-Certified Strengths Coach (2017), EQometer Certified Coach (2020) and the 4 Stages of Psychological Safety certified trainer (2020), as well as a certified practitioner of the Myers-Briggs Type Indicator and Strong Interest Inventory. Originally from Lincoln, Nebraska, Chad received his bachelor's degree from the University of Nebraska in 2001, and his master's degree from the University of Maryland in 2004. He lives in the Minneapolis-St. Paul area with his wife, Kristin, and two sons, Joey and Paul.
###
The Alumni Blog connects you with the latest at UMD. Check out articles on advancing your personal and professional goals, elevating your UMD pride, and celebrating Terp traditions, legacies and accomplishments. For even more content, follow the Alumni Association on Facebook, Instagram, Twitter, LinkedIn and YouTube. Become a UMD Champion to receive monthly shareable pride points, news and more straight to your inbox.