Home
About Us
News & Stories
How A Spirited Terp Found Her Many Communities at UMD
How A Spirited Terp Found Her Many Communities at UMD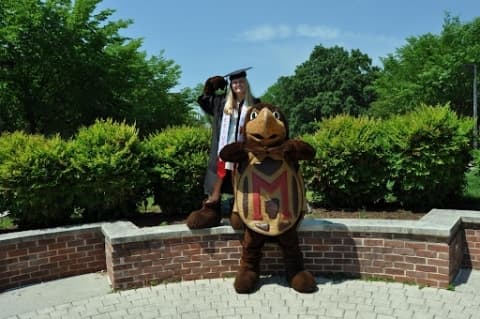 By Sala Levin '10
When Alex Wood '21 was applying to colleges as a high school senior, her parents insisted on a simple rule: apply to at least one in-state school. Wood, a Howard County, Md. native, was planning to go out of state, but followed her parents' wishes and included UMD on her list.
The result? Wood ended up bursting with so much Terp pride that she embodied the ultimate symbol of the University of Maryland: Testudo.
Starting just two weeks after Wood arrived on campus for her freshman year, she joined the team of students who perform as Testudo at athletic games, campus events, and even weddings and birthday parties. To make the squad, Wood had to show off her dance moves as well as her interpersonal skills with fans. One of her favorite memories of her time as Testudo was traveling to Indianapolis with the women's basketball team in 2020, where they won the Big 10 tournament.
The whole time, Wood had to operate with a secret identity. "I could only tell my closest friends, roommates and family" that she was Testudo, Wood said. "It was not public knowledge or something I could talk about on campus."
The secrecy made her big reveal on the day of her commencement all the more thrilling. "It was very hard to keep it a secret for four years, but it was so rewarding when I announced my alter ego from the past four years," she said. "I had some close friends who were very surprised and were so excited about my position."
Wood's enthusiasm for all things UMD made sense considering her generally energetic personality. "I have always been somebody with big spirit," she said. In fact, her senior superlative in high school was "most spirited." When she visited UMD's campus before enrolling, she realized immediately that she was at home--the large size, diversity of students and experiences, sporting events and academic excellence all appealed to her.
"It fit my personality really well," Wood said.
A student in the Robert H. Smith School of Business, Wood focused on marketing and management, inspired by internships she'd undertaken in high school. "I knew that I really wanted to get into … the people side of business," she said. "From my first business classes, I felt like I was being challenged and supported at the same time."
Outside the classroom, Wood packed her schedule with more than her role as Testudo. She joined The Bureau, a campus group that performs improv, sketch and stand-up comedy. Though she'd dabbled in improv in high school, stand-up and sketch were totally new to Wood. When she performed her first stand-up routine junior year, "I felt like I had really grown into being able to do that," she said.
Wood also joined Smith Ambassadors, a group of students that runs tours and information sessions for the Smith School of Business, as well as CHAARG, a women's fitness organization that operates on more than 95 campuses across the country.
Though the COVID-19 pandemic disrupted Wood's senior year, it also imparted some valuable lessons. "I spent three years (thinking), 'Oh, I'll do that senior year,' or, 'I'll be able to take those chances senior year,'" she said. "I think (the pandemic) gave me a really big appreciation for not putting things off for later." She also developed a deeper sense of gratitude for the many groups she was a part of. "It was really rewarding to see that we could still be a community virtually," she said.
This fall, Wood will start working toward a master's degree in sports industry management at Georgetown University, and hopes to one day work in sports marketing in the Washington, D.C., area. Through it all, she plans to stay linked to her undergraduate alma mater, which has become an integral part of her life.
"Terps forever have my heart, and I just really want to stay connected to the community," Wood said. "If I move, I fully anticipate tracking down some Terps in the area. That's just something that I love about Maryland and the community that it has: no matter where you go, there's going to be a Terp somewhere near you."
###
The Alumni Blog connects you with the latest at UMD. Check out articles on advancing your personal and professional goals, elevating your UMD pride, and celebrating Terp traditions, legacies and accomplishments. For even more content, follow the Alumni Association on Facebook, Instagram, Twitter, LinkedIn and YouTube. Become a UMD Champion to receive monthly shareable pride points, news and more straight to your inbox.