Home
About Us
News & Stories
Inaugural Young Alumni Conference a Hit With Recent Terp Grads
Inaugural Young Alumni Conference a Hit With Recent Terp Grads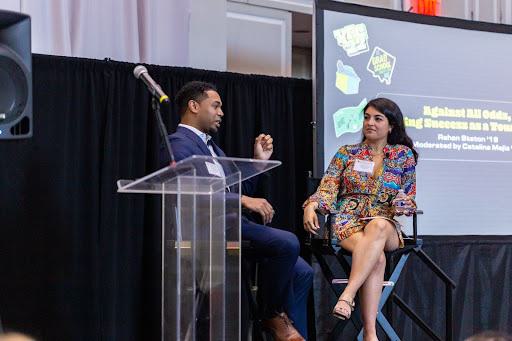 Transitioning from a campus bubble in College Park to the "real world" post-graduation can be challenging. Hence the creation of the University of Maryland Alumni Association's Young Alumni Conference, a day-long career conference dedicated to personal and professional circumstances unique to alums who are under the age of 30.
The inaugural event on Friday, Sept. 23, 2022 was held at the Samuel Riggs IV Alumni Center, and over 100 young alums gathered for a keynote address, breakout sessions, career coaching and time to network with their peers.
Eleven notable alums of various experiences and industries were speakers and panelists during the event, offering personal stories and advice, many noting they are still figuring things out themselves.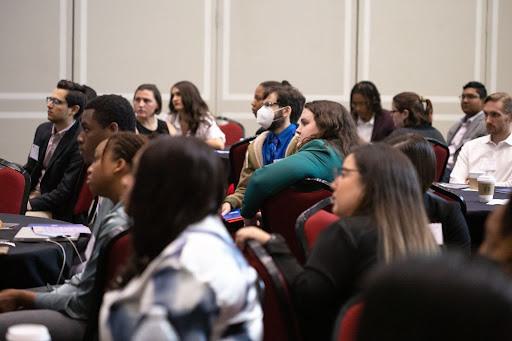 Attendees listen to the keynote address in Orem Hall to start the day off at the inaugural Young Alumni Conference.

It marked the first time that the Alumni Association's career programs team of Megan Masterson and Ellie Geraghty hosted career programming specific to young alums, recognizing it was a gap that really needed to be filled.
"When I was talking to young alums, what a lot of them said was that they wanted people their age to relate to [at Alumni Association events], and they were also going through a ton of career transitions," mentioned Masterson. "And that's what I heard over and over again, so I wanted to create a space for young alums to one, connect with each other, and two, to connect to career resources they might not know are out there."
Analucy Benavides '16, a government and politics graduate, attended the conference for some guidance and networking opportunities as she is at a pivotal point in her career where she's looking to transition from one career path to another.
"I felt a little lost and I didn't know what direction to take so I wanted to see what this program had to offer, see what resources were available, and it was really refreshing to see that I'm not the only person that feels this way," Benavides noted.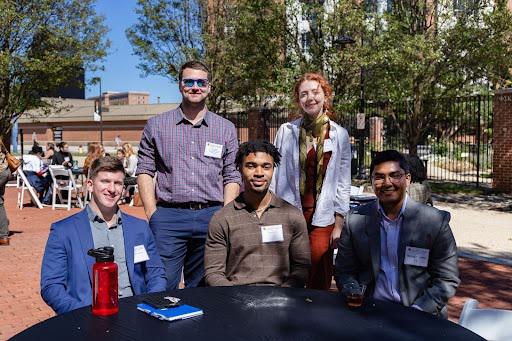 Attendees pose for a photo around a table on the Eleanor F. and Charles Young Jr. Garden Terrace of Samuel Riggs IV Alumni Center during networking hour, presented by AESU, of the 2022 Young Alumni Conference.
Benavides was able to meet one-on-one with a career coach in her field during the conference's exploration hours. She received valuable guidance, including ways to improve her LinkedIn profile, and she exchanged emails with her coach so that they can continue their conversation.
"It got me thinking about what I need to do to better myself and land the job I would like," said Benavides.
Masterson said her goal is to continue to offer content for young alums, as well as making current resources more accessible. These resources include monthly coaches corner webinars, an alumni-exclusive job board, mentoring and networking opportunities on Terrapins Connect, and more, all available on the Alumni Association's newly redesigned website.
A full photo gallery from the conference can be found on the Alumni Association's Flickr.
For more information on career resources and upcoming career events offered by the Alumni Association, visit alumni.umd.edu/career-resources.
###
The Alumni Blog connects you with the latest at UMD. Check out articles on advancing your personal and professional goals, elevating your UMD pride, and celebrating Terp traditions, legacies and accomplishments. For even more content, follow the Alumni Association on Facebook, Instagram, Twitter, LinkedIn and YouTube.