Home
About Us
News & Stories
Love Languages
Love Languages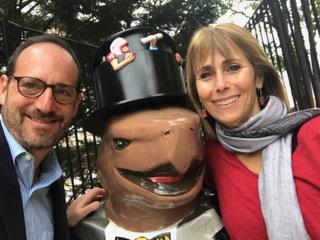 By Andrew Faught
Dave and Dara Feldman '84 live their lives as if every day is Valentine's Day.
"We don't need a single Hallmark card day," Dara says.
"We try to bring the essence of who we are into all that we do," Dave notes. "It's about enjoying every moment of each other's company."
They've even built their professional lives on spreading the language of love. The Kensington, Maryland, couple run the nonprofit organization Virtues Matter, whose mission can best be described by the acronym that they impress on their clients: L.O.V.E (Language of Virtues, Every day, Everywhere).
"Virtues are university positive qualities of character, like gratitude, resilience, strength, hope and generosity," Dave says. The business works with individuals and organizations – educators, social workers and entrepreneurs, among them – to "cultivate virtue" in their daily lives.
The couple, who will celebrate 23 years of marriage in March, say they work hard to practice what they preach. They met as undergraduates, when Dave was visiting Dara's roommate - who had romantic designs on him - at the Chi Omega house. It wouldn't be until 13 years that Dave and Dara became reacquainted.
Dave, a marketing major (who later earned a finance and international business graduate degree at the university) and Sigma Alpha Epsilon member, and Dara, an elementary education major, went their own ways after that. Years later they had a chance encounter at a Rockville, Maryland, gym, where Dave remembered her by the wrong name.
Dara shrugged off the gaffe and came to an immediate conclusion: "In 10 minutes, I knew I was going to marry him. There was something in my heart that was attracted to him in our couple minutes of having conversation."
Adds Dave: "She was authentic, genuine and, really, just kind of adorable."
A month later, the two had their first date, at Du Pont Circle in Washington, D.C., where they ate pizza, took in a movie, and browsed the titles at Kramers bookstore.
The parents of two, meantime, keep active with their alma mater. They go to basketball games, and Dave attends programs at the Dingman Center for Entrepreneurship. Dara stays connected by attending world peace programming sponsored by the Center for International Development and Conflict Management. The couple's two children include Danielle McCormick '12, who holds an elementary education degree.
Enjoying a long and successful marriage takes being intentional and swallowing one's pride, according to Dave. He doesn't parse words.
"I'm not going to make judgment on guys, but it's a good lesson for men to shut up and just listen," he notes. "That's an important lesson to learn in any circumstance."
Dara says successful relationships are built on loving yourself first.
"Each individual needs to take care of themselves so that their stuff doesn't come sideways at their partner," she says. "We can hurt the ones we love most. Speaking in the language of virtues is the first strategy – cultivating gratitude and appreciation."
###
The Alumni Blog connects you with the latest at UMD. Check out articles on advancing your personal and professional goals, elevating your UMD pride, and celebrating Terp traditions, legacies and accomplishments. For even more content, follow the Alumni Association on
Facebook
,
Instagram
,
Twitter
,
LinkedIn
and
YouTube
. Become a
UMD Champion
to receive monthly shareable pride points, news and more straight to your inbox.