Home
About Us
News & Stories
Magdi Elghannam '22: Starting a Legacy for Pre-Med Students at UMD
Magdi Elghannam '22: Starting a Legacy for Pre-Med Students at UMD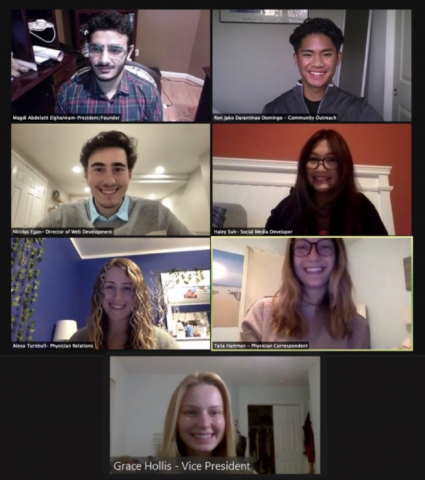 By Abby Humbel '21
As a pre-med student studying neurobiology and physiology, Magdi Elghannam '22 was beginning to feel the pressure of gaining the clinical experience his future acceptance to medical school requires. With Covid-19, Magdi found it even more difficult to find opportunities to get him the experience he needs for medical school and a future career in medicine. On top of this, Magdi is pursuing a minor in Greek mythology, tutors elementary school students in science, does Jiu Jitsu and is a member of Phi Delta Epsilon.
"One day, last year, I was sitting in my basement and I was freaking out because I wasn't sure if I was ready for medical school because I didn't have any clinical experience, and I called about 90 doctors and hospitals, but they all said they can't have any students shadow them due to Covid-19," Elghannam said.
After his failure at finding in-person clinical shadowing experience, Magdi spent time trying shadowing programs that he later found online. He said that they lacked the peer-mentor aspect because of the virtual nature, and none of the programs fully disclosed information about what committing your life to a medical career is like. This is when his idea for ShellCast Medical came about.
Magdi decided that he wanted to create a unique virtual mentor program for pre-med students at the University of Maryland, like himself, so that they could get the rich shadowing experience they need during the pandemic.
"What sets ShellCast apart from other virtual mentorship programs is an emphasis on the human side of things. I want it to feel like there is a real mentor speaking to students, revealing the work and human aspects of a medical career," Elghannam said.
Launched in fall 2020, this program is still in the beginning stages, but Magdi and his team aim to turn it into a resource that survives post-Covid. ShellCast connects mentors to pre-med students who love learning, in an attempt to remove the disconnect between pre-meds, medical students and doctors.
"A lot of pre-meds are obsessed with the idea of becoming a doctor, but don't know the reality of the field," Elghannam said.
With ShellCast, Magdi aims to bridge this gap between undergraduate, pre-medical students and ultimately connect them with people who have been in their shoes before. He believes that everyone involved can learn a lot and collaborate in the medical field.
"I think UMD is such a great environment for learning and growth, and I hope ShellCast Medical adds to it and lasts a long time on campus," Elghannam said.
Magdi shares that he could not have started this project alone. He received help from Courntey Butler at the HPAO Office, and (in addition to his role as president) his team includes: Nicolas Egan, Web Development; Talia Hartman, Physician Correspondence; Grace Hollis, Undergraduate Communications; Haley Suh, Social Media Director; Alexa Turnbull, Physician Liaison and Jako Domingo, Inter-Institutional Growth.
If you are interested in connecting with ShellCast and its team or getting involved, you may visit the Youtube channel, Instagram page, or email directly at Shellcastmedical@gmail.com.
###
The Alumni Blog connects you with the latest at UMD. Check out articles on advancing your personal and professional goals, elevating your UMD pride, and celebrating Terp traditions, legacies and accomplishments. For even more content, follow the Alumni Association on Facebook, Instagram, Twitter, LinkedIn and YouTube. Become a UMD Champion to receive monthly shareable pride points, news and more straight to your inbox.
Student Spotlights introduces you to current UMD students doing incredible things on campus, in their communities, and beyond. If you know of a student who would be a good feature for this blog series, please reach out to Lauren Norris.