Home
About Us
News & Stories
Meet 2021 SALC President, Gabriela Winter '22
Meet 2021 SALC President, Gabriela Winter '22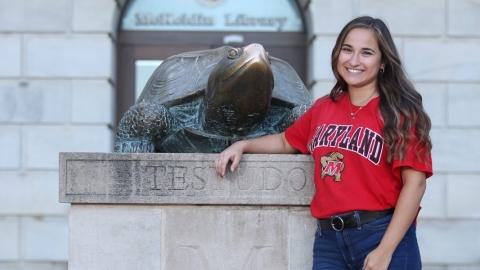 Coming from a family of Terps, Gabriela Winter '22 is serving as the Student Alumni Leadership Council's (SALC) 2021 president. Winter is a current junior in the The Robert H. Smith School of Business, studying supply chain management and marketing. She grew up in Ashton, Maryland and spent a lot of time at UMD as a child because her father is an alum and huge supporter of the university.
"Because of him, along with many other Terps in my family, I grew up always having a special place for UMD in my heart! I attended my first football game when I was just a few months old and my parents tell me how I was passed around in the stands. I also remember attending almost every Maryland Day and sporting event at UMD," she said.
Winter first learned about SALC during the Family Weekend Legacy Dinner hosted by the University of Maryland Alumni Association during her first year. She attended the event with both of her Terp alum parents. There she met Lauren Norris '11, M.A. '16, the founding advisor of SALC, and two SALC leaders, Andrew String '20 (former president) and Molly Glime '19 (former VP of Membership). "Through talking with them, I knew SALC was an organization I wanted to be a part of. I applied as a freshman and was so excited to be accepted," she said.
Following her acceptance, Winter continued to grow as a student ambassador in SALC, first becoming the VP of the Membership committee, and now in her role as president. "I am fortunate enough and humbled to serve as SALC's fourth president. SALC has been a huge part of my identity here at UMD since day one. I am very excited for the year ahead and to continue to watch SALC grow and advance even more in years to come," she said.
Winter shared that one of her favorite projects she has worked on in SALC thus far was the first-ever virtual recruitment in fall 2020 during her time as the VP of membership. Although this was a challenging strategy to plan, she feels that she grew from the experience. "We had over 50 people apply and we ultimately recruited 18 incredible new members. I got the opportunity to meet so many impressive student leaders who all have a huge love for UMD," she said, "I'm very proud of the work my team and I accomplished with recruitment."
Winter is inspired by the work of the former SALC presidents before her and wants to follow in their footsteps by working alongside the SALC advisor, Jessica Lee, who is starting her first year with SALC. Winter wants to develop new programs and initiatives that will help with SALC's continued growth. Her goals are to connect more students and alumni, even in a virtual setting, and continue to advance SALC's partnerships with other student organizations and departments on campus.
"SALC is still only a four-year-old organization. There is always room to continue to grow and expand our relations. I hope to make these meaningful partnerships so that we can work together as students to better our university and continue to spread Terp pride," Winter said, adding that her Fearless Idea "inspires and encourages individuality by creating a welcoming environment for all - no matter their interests, values and identity."
Winter has a lot of Terp pride. Her favorite spot on campus is the mall, especially on a warm, sunny day when she can relax with friends and study under the sun. She also shared, "My ultimate favorite UMD tradition is rubbing Testudo's nose. As a child, I used to run his nose for good luck every time I visited campus and before every sporting event. Now as a student, I continue to always rub his nose for sport events and for good luck on my exam."
Winter comes from a long line of Terps, and while she is living out her parents' legacy, she is also proud that she is creating her own incredible experience at UMD and making an impact on campus.
###
This series highlights the Student Alumni Leadership Council's (SALC) 2021 Executive Council. These students reveal how SALC has formed their experiences as student leaders and the goals they have for the future of the organization. For more information about visit salc.umd.edu. The Alumni Blog connects you with the latest at UMD. Check out articles on advancing your personal and professional goals, elevating your UMD pride, and celebrating Terp traditions, legacies and accomplishments. For even more content, follow the Alumni Association on Facebook, Instagram and Twitter.