Home
About Us
News & Stories
Meet 2021 SALC Vice President of Campus Programming, Ethan Jenkins '23
Meet 2021 SALC Vice President of Campus Programming, Ethan Jenkins '23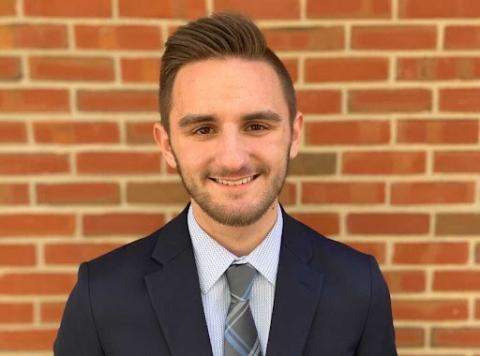 By Abby Humbel '21
Ethan Jenkins '23 is an international business and finance double major from Bel Air, Maryland. He joined the Student Alumni Leadership Council (SALC) in 2020 as a first year student, and he is now taking on his first leadership role as Vice President of Campus Programming.
"I chose to join SALC so that I could surround myself with leaders that would inspire me to make a change in my life and the community around me. In my year's time in the organization, I have learned more about leading, planning and networking than I have anywhere else," Jenkins said.
He is excited to take on this new role and oversee some of his favorite events like Charter Day and I <3 UMD week. "Charter Day has been the most enjoyable event to work on in SALC. This event, centered around celebrating the chartering of the university, is always filled with fun, novel ideas every year. Seeing these plans go from words to actions to successes is always an amazing experience," Jenkins said.
One goal he has for this year is being unconventional in the way the Campus Programming committee runs so that events are unique and engaging for as many students as possible.
Jenkins' Fearless Idea is "to challenge people toward generating global solutions for local issues."
His favorite place on campus is the Washington Quad and his favorite UMD tradition is jumping into the ODK fountain.
###
This series highlights the Student Alumni Leadership Council's (SALC) 2021 Executive Council. These students reveal how SALC has formed their experiences as student leaders and the goals they have for the future of the organization. For more information about visit salc.umd.edu. The Alumni Blog connects you with the latest at UMD. Check out articles on advancing your personal and professional goals, elevating your UMD pride, and celebrating Terp traditions, legacies and accomplishments. For even more content, follow the Alumni Association on Facebook, Instagram and Twitter.