Home
About Us
News & Stories
Meet the Board of Governors: Veronica Segovia de Bedon '04
Meet the Board of Governors: Veronica Segovia de Bedon '04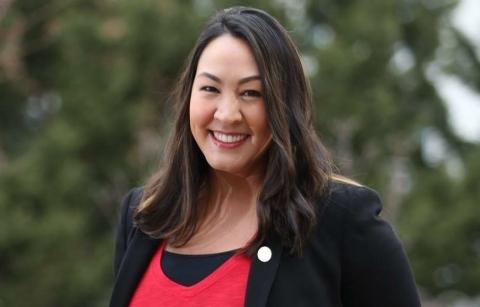 By Allison Eatough '97
At just four years old, Veronica Segovia de Bedon '04 began her formal education at the University of Maryland.
The university's Center for Young Children (CYC), that is.
"It's where I got my start," she said of the center, a preschool that falls under the College of Education.
Some of Bedon's earliest memories are from the CYC and visits with her father, Dr. Tony Segovia, a retired University of Maryland geology professor.
"I was always on campus, going to classes with him during his summer sessions, doing summer sports and theater camps and attending what is now known as Maryland Day," she said.
So when it came time to choose a college, University of Maryland was the natural choice. Four years after enrolling, and 17 years after her first student experience at the university, Bedon earned a bachelor's degree in public relations.
Bedon, who speaks English and Spanish, worked as a bilingual adjudicator for several years, conducting interviews in Spanish and helping to resolve cases for the Maryland Department of Labor's Division of Unemployment Insurance. Then in 2010, she accepted a social media internship at a nonprofit organization in Washington D.C. Soon after, companies began recruiting her for jobs.
In 2014, while working as a social project coordinator for AARP, Bedon said she wanted to give back to the university and help fellow students transition from college to career life. She returned to campus as a volunteer, connecting with undergraduates at the College of Arts and Humanities' Access2Alumni event.
Bedon's desire to give back only grew from there. In 2017, she became president of the College of Arts and Humanities alumni network, and then in 2019, she joined the University of Maryland Alumni Association Board of Governors.
"There are more opportunities at the Board of Governors to network, contribute ideas and work across colleges, departments and affinity networks," she said. "There's so much growth and innovation happening here. It instills a lot of pride in me to see what was going on in and around College Park as a result of the growth of the university."
Today, Bedon serves as AARP's senior advisor for diversity, equity and inclusion and as an advisory member of the Board of Governors, supporting the board's inclusion efforts.
"As a group, we've come up with a vision aligning the mission of the Alumni Association with a commitment to diversity, equity and inclusion," she said. "We want our alumni to be engaged, so let's think about what we're asking them to do and how we're meeting them where they are."
To learn more about the University of Maryland Alumni Association's commitment to diversity, equity and inclusion, click here.
###
The Alumni Blog connects you with the latest at UMD. Check out articles on advancing your personal and professional goals, elevating your UMD pride, and celebrating Terp traditions, legacies and accomplishments. For even more content, follow the Alumni Association on Facebook, Instagram, Twitter, LinkedIn and YouTube. Become a UMD Champion to receive monthly shareable pride points, news and more straight to your inbox.