Home
About Us
News & Stories
Meet the Staff: Colleen Bass '14
Meet the Staff: Colleen Bass '14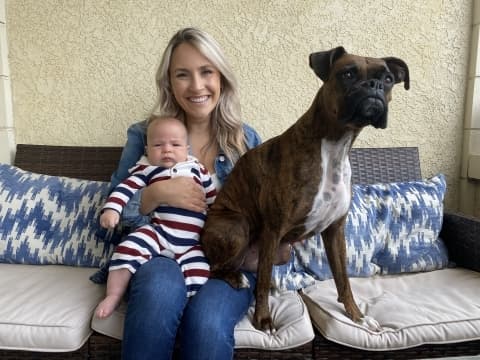 By Lauren Norris '11, '16
In our "Meet the Staff" blog series we introduce you to the hardworking team members at the University of Maryland Alumni Association who help connect you with fellow Terps, prepare you for new opportunities and strengthen your legacy and alma mater.
Colleen Bass '14 is the Director of Alumni Engagement on the west coast for the University of Maryland Alumni Association - she joined the team after serving as an alumni network volunteer for several years. We are pleased to introduce her to you in this installment of our "Meet the Staff" series.
In your own words, what do you do at the Alumni Association?
I help Terps on the west coast connect with each other and UMD so they have a home away from home.
Have you started a new (or renewed) activity over the past few months?
My son Julian was born in January. I love rollerblading with him in the stroller and priming him for the UMD class of 2042!
As an alumna, do you have a favorite memory or College Park spot from your days as a student?
My husband and I met when our Greek chapters were paired up for Greek Week 2011. We spent lots of time at Cornerstone (Grill & Loft) and ended up having our engagement party there 5 years later.
Do you have any secret talents?
I was a competitive Irish step dancer for 12 years - but that only comes out now on very special occasions.
What's your go-to karaoke song?
Goodbye Earl by the (Dixie) Chicks.
What's your favorite Alumni Association memory?
In 2014, the year I moved to California (and before I worked for the Alumni Association), UMD played in the Foster Farms Bowl in Santa Clara, CA. The Alumni Association hosted a huge pre-game party with appearances by the Mighty Sound of Maryland Marching Band and former UMD president, Wallace Loh. It was so fun to have a taste of home since I wasn't able to attend any football games on campus that year.
Reach out to Colleen if you're in WA, CA, CO, AZ, NV or TX and would like to connect with fellow Terps.
Colleen R. Bass '14
Director of Alumni Engagement, West Coast
Email: crbass@umd.edu
Phone: 301.405.3846
###
The Alumni Blog connects you with the latest at UMD. Check out articles on advancing your personal and professional goals, elevating your UMD pride, and celebrating Terp traditions, legacies and accomplishments. For even more content, follow the Alumni Association on Facebook, Instagram and Twitter.