Home
About Us
News & Stories
Meet the Staff: Ellie Geraghty
Meet the Staff: Ellie Geraghty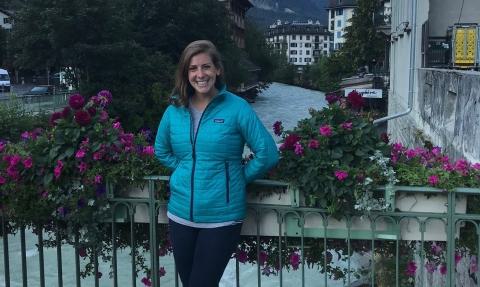 By Mary Bathon
Welcome to our new "Meet the Staff" blog series. Here we will introduce you to the hardworking team members at the University of Maryland Alumni Association who help connect you with fellow Terps, prepare you for new opportunities and strengthen your legacy and alma mater.
First up is Ellie Geraghty, manager of alumni career programs. Although Ellie has been with us for less than a year, she has already made a big splash at the Alumni Association.
In your own words, what do you do at the Alumni Association?
I manage the virtual programming and career/professional development opportunities that we offer to alumni with a specific focus on alumni who are in the middle of their careers. Some of my recent programs include TerpsThrive, Maryland Masterclass, Terp Talk Webinars, the Virtual Book Club, Terrapins Connect and more!
What do you do when you're not working?
Outside of work, I can be found taking a boxing class at my gym, planning a getaway weekend with my college girlfriends, trying out new food spots in DC or going on a hike in the Shenandoah National Park.
Pro tip - ask Ellie where you can find the best pizza in DC (she's kind of an expert).
Have you picked up any new hobbies or activities during this COVID-19 quarantine?
​Ever since the stay-at-home order, I've been taking advantage of the time I previously spent commuting to now go on morning and evening walks around my neighborhood. I try to write in my gratitude journal once a day, and l have been organizing virtual game nights with my friends (I love Codenames and Quiplash!).
What's your go-to coffee order?
Iced coffee with almond milk - no matter how cold it is outside!
Reach out to Ellie if you want to geek out and discuss ideas on how to authentically engage fellow alumni through virtual platforms or to share your career journey. She is here to help you and is eager to learn all the fun and crazy traditions that exist at Maryland!
Ellie Geraghty
Alumni Career Programs Manager
Email: ellieg@umd.edu
Phone: 301.405.7870
###
The Alumni Blog connects you with the latest at UMD. Check out articles on advancing your personal and professional goals, elevating your UMD pride, and celebrating Terp traditions, legacies and accomplishments. For even more content, follow the Alumni Association on Facebook, Instagram and Twitter.