Home
About Us
News & Stories
Meet the Staff: Lauren Norris '11, '16
Meet the Staff: Lauren Norris '11, '16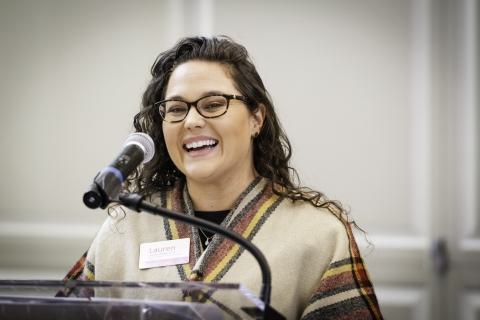 By Mary Bathon
In our "Meet the Staff" blog series we introduce you to the hardworking team members at the University of Maryland Alumni Association who help connect you with fellow Terps, prepare you for new opportunities and strengthen your legacy and alma mater.
Lauren Norris '11, '16 is the Director of Advocacy and Engagement for the University of Maryland Alumni Association. In addition to being a longtime staff member, Lauren is also a double (soon to be triple) Terp! We are pleased to introduce her to you in this third installment of our "Meet the Staff" series.
In your own words, what do you do at the Alumni Association?
I aim to enhance the university's brand by providing meaningful engagement opportunities for alumni, students, family members and friends. I organize Terps to advocate on behalf of the university's priorities in Annapolis and Washington DC, engage with Terp families through programs and events, and work to generate a pipeline of engaged alumni through initiatives with students.
Have you picked up any new hobbies or activities during this COVID-19 quarantine?
Pre-quarantine I enjoyed taking spin classes at my local studio, but now I'm staying active by taking my bernedoodle puppy, Kevin, for long walks and doing virtual workout classes.
Favorite UMD memory
I have so many amazing UMD memories! I'd have to say storming the court when the Terps men's basketball team, led by Greivis Vasquez '10, beat Duke in 2010 is my favorite.
Do you have any secret skills that are not related to your job?
I really enjoy cooking and baking! Recently I've been making scones, pickling vegetables, baking banana bread and trying a bunch of new recipes. "Bon Appetit" and "NYT Cooking" are a couple of my favorite places for inspiration.
What is your go-to coffee order?
Vanilla cold brew, sometimes with a splash of cream!
Reach out to Lauren if you are interested in advocating on behalf of UMD, connecting with current students, or just want the recipe for her should-be-famous scones:
Lauren Norris '11, '16
Director of Advocacy and Engagement
Email: lnorris1@umd.edu
Phone: 301-405-8071
###
The Alumni Blog connects you with the latest at UMD. Check out articles on advancing your personal and professional goals, elevating your UMD pride, and celebrating Terp traditions, legacies and accomplishments. For even more content, follow the Alumni Association on Facebook, Instagram and Twitter.