Home
About Us
News & Stories
Meet the Staff: Sienna Webster
Meet the Staff: Sienna Webster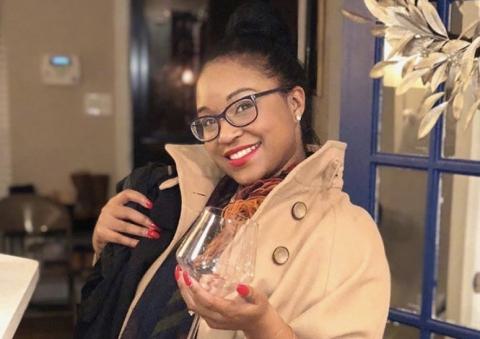 By Mary Bathon
In our "Meet the Staff" blog series we introduce you to the hardworking team members at the University of Maryland Alumni Association who help connect you with fellow Terps, prepare you for new opportunities and strengthen your legacy and alma mater.
Sienna Webster is the Event Sales Manager for the University of Maryland Alumni Association. We are pleased to introduce her to you in this fourth installment of our "Meet the Staff" series.
In your own words, what do you do at the Alumni Association?
As the Event Sales Manager, I have the unique pleasure of working as part of the Riggs Events Team. What that means on paper is that I book all the rental spaces at the Samuel Riggs IV Alumni Center for events, weddings, social gatherings, conferences and more. However, what I really do is help future clients see their vision come to life in our spaces.
What you can find me doing outside of work.
Outside of work you can find me making memories with my husband and 7 month old son (#NewParents). In addition to our new baby, we also have two mini schnauzers: Sgt. and Major. I also love to play tourist in DC and discover new restaurants with friends.
Do you have a favorite Alumni Association moment?
Nothing beats our alumni weddings! I love hearing about all the great Terp love stories and seeing it all come together on their special day - often right where they first met!
One meal that you could eat for the rest of your life
I could eat Bone-in Short Rib (or really anything on the menu) from RPM Italian for the rest of my life! Their food is SO GOOD and as an added bonus, the restaurant was founded by a Terp!
Reach out to Sienna if you are interested in touring any of the amazing spaces at the Riggs Alumni Center, want more information about planning your event, or have ideas for how to keep a baby entertained at home.
Sienna Webster
Event Sales Manager
Email: ssmith50@umd.edu
Phone: 301-405-7342
###

The Alumni Blog connects you with the latest at UMD. Check out articles on advancing your personal and professional goals, elevating your UMD pride, and celebrating Terp traditions, legacies and accomplishments. For even more content, follow the Alumni Association on Facebook, Instagram and Twitter.