Home
About Us
News & Stories
Meet the Staff: Taylor Jimeson
Meet the Staff: Taylor Jimeson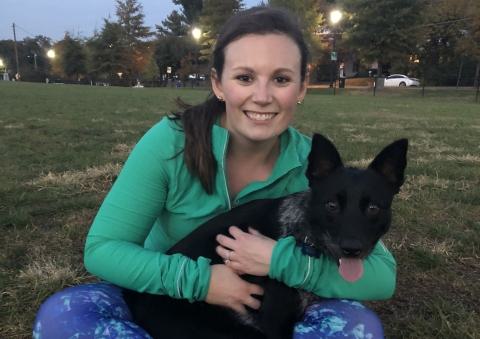 By Mary Bathon
In our "Meet the Staff" blog series we introduce you to the hardworking team members at the University of Maryland Alumni Association who help connect you with fellow Terps, prepare you for new opportunities and strengthen your legacy and alma mater.
Taylor Jimeson, pictured here with Tucker, her adorable 2.5 year old Australian Cattle Dog, is the Assistant Director of Membership Marketing for the University of Maryland Alumni Association. We are pleased to introduce her to you in this second installment of our new "Meet the Staff" series.
In your own words, what do you do at the Alumni Association?
I work to connect alumni with next-level access to their Alumni Association through our membership program. I collaborate with all areas of our organization to develop one-of-a-kind experiences for our 20,000 (and growing!) members and coordinate member-centric publications. I also love celebrating momentous occasions with our members, including unveiling the newest names on the Frann G. & Eric S. Francis Lifetime Member Wall each fall.
What do you do when you're not working?
When I'm not at the Riggs Alumni Center (or the current reality of my home office), I can be found trading in my airline miles to travel on an adventure, visiting friends and family around the country and overseas. Next stop on my travel bucket list is Alaska!
Do you have a favorite Alumni Association moment?
Watching one of our scholarship recipients thank a room full of lifetime members for their tireless support of our programs and our scholarship program at our membership breakfast on Maryland Day 2019.
What's your go-to karaoke song?
"Before He Cheats" by Carrie Underwood...but don't read into it, it's just a good song to belt out!
Reach out to Taylor if you are interested in learning more about joining the Alumni Association, or if you have suggestions on more ways to celebrate our members.
Taylor N. Jimseon
Assistant Director of Membership Marketing
Email: tjimeson@umd.edu
Phone: 301.405.3842
###
The Alumni Blog connects you with the latest at UMD. Check out articles on advancing your personal and professional goals, elevating your UMD pride, and celebrating Terp traditions, legacies and accomplishments. For even more content, follow the Alumni Association on Facebook, Instagram and Twitter.