Home
About Us
News & Stories
Mikeal Vaughn '04 - Helping BIPOC Students Code Their Way Into the Future
Mikeal Vaughn '04 - Helping BIPOC Students Code Their Way Into the Future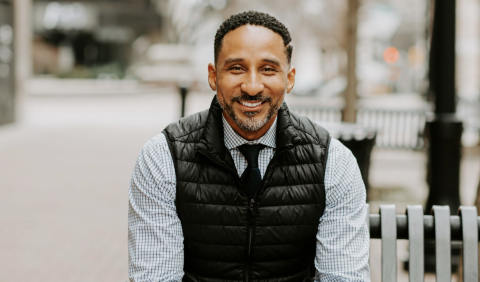 By Thalia Washington '00, University of Maryland Black Alumni (UMBA) Network social media and communications chair
Mikeal Vaughn '04 is the Founder and Executive Director of Urban Coders Guild, a Tulsa-based nonprofit providing free computer science and STEM education to middle and high school students identifying as BIPOC. Mikeal is an entrepreneur blazing trails as a Black man in the STEM field, and he is inspiring a new generation of underserved students to find belonging and success in STEM education.
Originally from Tulsa, Oklahoma, Mikeal studied Spanish and International Business as an undergrad at UMD. After spending 10 years in Tokyo, Japan, Mikeal felt called to return to Tulsa. There he sought to teach and inspire BIPOC students to engage in computer science and coding, learning in-demand STEM skills along with social and emotional skills to help them navigate academic and lifelong success. Urban Coders Guild was founded in 2017 and to date has worked with over 300 students.
Was there a faculty or staff member at UMD that had a significant influence on Mikeal?
In undergrad, Mikeal pledged Phi Beta Sigma Fraternity, Inc., an African American fraternity. There, an advisor for Black Greek life named Tiffany Ayiku had a big impact on him. She taught a course on leadership development and empathy that helped him develop confidence and self awareness. The lessons learned in that course stayed with him throughout college.
Was Mikeal active in any activities or organizations on campus?
He pledged Phi Beta Sigma Fraternity, Inc. and he was an active member of the Black Student Union (BSU) where he met peers whose dynamism inspired him to be a better student and more confident leader. He is still friends with many of his BSU peers today.
What is a lesson Mikeal learned while at UMD?
He was one of only two people he met on campus from Oklahoma, so in his first year on campus he flew home twice a month every month due to homesickness. In Tulsa, he grew up in a community with a long history of talented, Black leaders (think Black Wall Street), so he struggled at first to adjust to being away from home and to find his place and voice as a Black student on a predominately white campus. Through participation in the BSU, his fraternity and finding success in the classroom, Mikeal learned to assert himself more and to build up his confidence and leadership skills.
He also chose to pursue his own dreams instead of the path he thought was expected of him by his family, inspiring him to change from an Electrical Engineering major to a Spanish and International Business major. After graduating, he took a big leap of faith and moved to Tokyo through the Japan Exchange and Teaching (JET) Programme to teach English as a second language and fell in love with Japan. He ended up living and thriving in Tokyo for 10 years, getting an MBA through Temple University in Tokyo and becoming fluent in Japanese.
What advice do you have for Black Terps?
"Lean into the community while on campus. At a large predominantly white institution, it can be easy to get lost in the mix or fade into the background and many of us grew up in environments where we had to be self-sufficient. But don't try to figure everything out yourself! Lean into the community around you — get involved in campus organizations, be vulnerable and ask for help from your peer group when you need it."
What advice do you have for students?
"Take great leaps of faith — believing in yourself and taking a leap of faith can change your trajectory for the better. Also, develop a self care routine and invest in it. I go to the gym every single day, not to become the fittest person on the block but because it positively impacts my mental health. And get enough rest. As a Black man, the 'Black Tax' is real — the mental, physical and spiritual toll of economic and racial injustice is heavy and you must create a self-care routine to preserve your mental and emotional health long-term."
Tell us more about Urban Coders Guild.
"Urban Coders Guild is my passion. After living in Tokyo happily for 10 years, I was looking for a deeper purpose in my life and felt called to return to my hometown of Tulsa to inspire other students of color to learn to love computer science and coding. As a kid, I grew up in North Tulsa, the Black part of town, and I was the nerdy science kid who participated in computer camp, space camp … anything related to STEM interested me. My father is an engineer and I've always had an interest in STEM, but very few Black and brown peers were in those experiences with me growing up.
Urban Coders Guild provides free computer science and coding classes to 50 middle and high school students a year. Our core program runs 28 weeks afterschool from 5:30-7:30 p.m. and students can learn web development, how to create iPhone and Android apps and virtual reality programming. We also address the social emotional needs of students — we feed them, connect them to mentors, take them on college tours and provide a brand new Macbook and hotspot to them. Our program is free to students and no STEM experience is required.
We have a strong focus on serving BIPOC youth including the Native American community here in Tulsa. We are particularly proud that we have many girls of color participating in our computer science programming each year because girls of color are particularly underrepresented in the computer sciences. We are excited to be leading a digital revolution at Urban Coders Guild!"
A special thanks to Thalia Washington '00 and the University of Maryland Black Alumni (UMBA) Network for creating this alum spotlight. For more information about UMBA and how you can get involved, contact them at blackterp@gmail.com or visit their Facebook page.
###
The Alumni Blog connects you with the latest at UMD. Check out articles on advancing your personal and professional goals, elevating your UMD pride, and celebrating Terp traditions, legacies and accomplishments. For even more content, follow the Alumni Association on
Facebook
,
Instagram
,
Twitter
,
LinkedIn
and
YouTube
. Become a
UMD Champion
to receive monthly shareable pride points, news and more straight to your inbox.