Home
About Us
News & Stories
Research Award: Bridget T. Kelly, M.A. '96, Ph.D. '01
Research Award: Bridget T. Kelly, M.A. '96, Ph.D. '01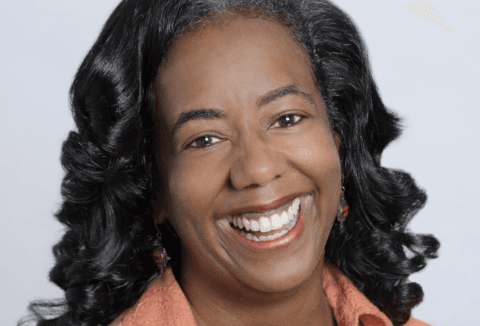 By Allison Eatough '97
Bridget T. Kelly, M.A. '96, Ph.D. '01 had a racial awakening while at the University of Maryland earning her doctoral degree.
For the first time in her academic life, she had a Black teacher – Professor Sharon Fries-Britt '77, Ph.D. '94.
Kelly, who is also Black, grew up in predominantly white neighborhoods in Massachusetts and Tennessee during the 1970s, 1980s and 1990s.
"When I saw (Fries-Britt) in front of the classroom, I literally, like a cartoon character, had a light bulb go off over my head," Kelly said. "I thought, 'That's what I want to do.' It really solidified me being a faculty member."
Since then, Kelly's research has helped educators across the country understand the experiences of women and people of color in academia.
"The reason why I'm a faculty member and do the research that I do is really to make hiring more equitable," said Kelly, who is a winner of this year's Alumni Excellence Research Award.
In 2003, Kelly began a longitudinal study of women faculty members, following their experiences during their first year on a tenure track at a research university. She continued to follow the women until one year after they earned tenure or one year after they left the university.
"When I started the study, there was a real shortage of women earning tenure," Kelly said. "Women were getting more graduate degrees than men, and they were entering the faculty at around the same rate, in terms of assistant professors or lecturers. I wanted to know what was happening between. You start out at almost a 50/50 rate with men, and then the men are earning tenure at triple the rate of women."
Kelly found in many cases, nationalism, genderism, racism and cultural issues impeded the women's success. In recent years, numbers have improved, but they are still not where they need to be, especially in science, technology, engineering and mathematics, she said.
In 2018, after almost two decades of teaching at schools like the University of Vermont and Loyola University Chicago, Kelly returned to UMD as an associate professor in the College of Education. Along with teaching, Kelly continues her research to help develop more socially just educators and explore how higher education can be more equitable for women, especially women of color.
She also serves as the College of Education's diversity officer and chair of its Council on Racial Equity and Justice. In these roles, she hopes to identify and address inequities within the college with students, faculty and staff.
She has even partnered with Fries-Britt—the professor who inspired her as a graduate student— on research and student affairs initiatives. The pair recently received funding from the Bill and Melinda Gates Foundation to help advance equity, access and success for Black, Latinx and Indigenous students and students from low-income backgrounds. And later this year, their book, "Building Mentorship Networks to Support Black Women: A Guide to Succeeding in the Academy," will be released.
"Dr. Bridget Turner Kelly is an amazing scholar who is so deserving of the Alumni Research Award," Fries-Britt said. "Her work is recognized nationally for helping institutional leaders understand the experiences of women and people of color in navigating the academy. She has identified important barriers and escalators of their success at historically white institutions, and she has employed her scholarship and practice to educate and mentor socially just leaders. Her commitment to apply her expertise in this way is invaluable to the university and the nation."
###
The Alumni Blog connects you with the latest at UMD. Check out articles on advancing your personal and professional goals, elevating your UMD pride, and celebrating Terp traditions, legacies and accomplishments. For even more content, follow the Alumni Association on
Facebook
,
Instagram
,
Twitter
,
LinkedIn
and
YouTube
. Become a
UMD Champion
to receive monthly shareable pride points, news and more straight to your inbox.