Home
About Us
News & Stories
SALC Member Spotlight: Natalie Knight-Griffin '24
SALC Member Spotlight: Natalie Knight-Griffin '24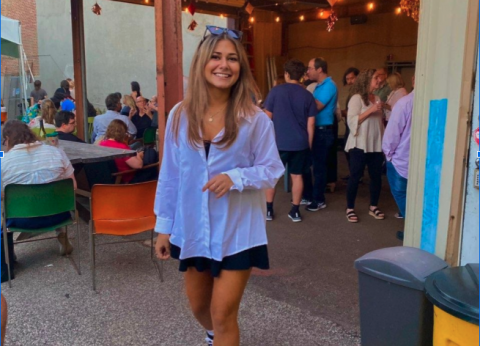 By Brian Spates '22
Natalie Knight-Griffin '24, from Ellicott City, MD, is an intended environmental sciences and policy major.
Natalie Knight-Griffin '24, an Ellicott City, MD native, is in her second year at the University of Maryland, in which she intends to declare an environmental sciences and policy major, a field she's been passionate about ever since getting involved with sustainability and environmental activism as a high schooler. Her Fearless Idea seeks "to create a society where sustainability is accessible to all people, no matter socioeconomic status," and Natalie also had the opportunity to give a TedX Talk at her high school encouraging people to, "do what you can to the best of your ability" towards reducing consumption and living sustainably.
Natalie first heard about the Student Alumni Leadership Council (SALC) from a recruitment flyer posted in her dorm building her first year, and it piqued her interest as a virtual freshman looking for ways to get involved on campus. After going back to her room and reading online about SALC and our wonderful members, she immediately filled out the application to join, and the rest is history!
While serving on the Campus Programming Committee, Natalie feels like she found the perfect fit for her in the group. "It felt like everything fell into place with Campus Programming," Natalie recalled, giving her the opportunity to utilize her extroverted side, talking to people, tabling and meeting students across campus. These interests were evident through the First Look Fair, the annual showcase of student groups, which has been the highlight of Natalie's first year with SALC. Not only was it her first big on-campus event ever (and first in-person event with SALC), but she loved getting to hear about other SALC member's perspectives and appreciation for the organization while getting to talk to so many other students about SALC.
When she's not busy with SALC, Natalie's favorite place to be on campus is Tawes Plaza as the sun is setting and the sky has an orange glow, and her favorite campus tradition is studying with friends on the McKeldin Library balcony.
###
The Alumni Blog connects you with the latest at UMD. Check out articles on advancing your personal and professional goals, elevating your UMD pride, and celebrating Terp traditions, legacies and accomplishments. For even more content, follow the Alumni Association on
Facebook
,
Instagram
,
Twitter
,
LinkedIn
and
YouTube
. Become a
UMD Champion
to receive monthly shareable pride points, news and more straight to your inbox.