Home
About Us
News & Stories
Tasting and Tradition
Tasting and Tradition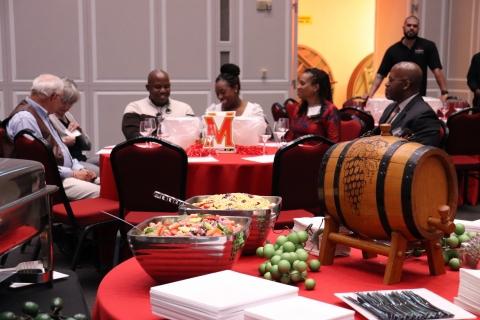 The Prince George's County Alumni Network has been hosting its annual wine tasting for as long as Daniel Cronin '90, '92 can remember. More than 50 Prince George's County alumni returned to the Samuel Riggs IV Alumni Center on April 11 for the event, which also included raffle prizes and mingling with fellow Terps.
Each year, the network hosts the event to celebrate awardees of the James Douglass Goddard Award — a tradition dating back to 1911.
"It's a way to honor the lasting legacy of the Goddard family," says Cronin, Co-Vice President, Educational Programs/Events for the Prince George's County network.
The network selects two awardees, one male and one female, who receive a $1,000 award, a plaque and speak to alumni attendees about their accomplishments.
This year's awardees, Caroline Campbell '19 and Patrick James Cable '19, spoke about their involvement in student groups, community service initiatives and plans after graduation.
"The event has three purposes," Cronin says. "It celebrates the awardees, allows alumni to connect back to the university and makes wine tasting accessible."
Vincent Culotta, co-owner of the Cured Tap & Table and 18th & 21th restaurants in Columbia, Md lent his expertise to the event once again by serving as host of the tasting portion of the evening. The event included a range of wine selections from distributor Constantine Wines and peruvian dishes from Sardi's Pollo a la Brasa.
"We appreciate Culotta leaving his busy restaurants to instruct us on the art of wine tasting and enjoyment," says Patricia Jenkins '80, '92, network board member. "And we offer a special thanks to Sardi's for bringing us the taste of grilled chicken that we love from football games!"
For Cronin, who received the Goddard award back in 1990, this event is an opportunity to see his own involvement come full circle.
"I get to see the next generation find their own paths to becoming involved alumni," he says. "It's moving to see how spectacular our students are."
To learn about future Prince George's County Alumni Network events, be sure to follow them on Facebook @umdpgcan. To view photos from this event, visit our Flickr page.
###
The Alumni Blog connects you with the latest at UMD. Check out articles on advancing your personal and professional goals, elevating your UMD pride, and celebrating Terp traditions, legacies and accomplishments. For even more content, follow the Alumni Association on Facebook, Instagram and Twitter.