Home
About Us
News & Stories
Terp Traditions: The Basketball Game Flash Mob
Terp Traditions: The Basketball Game Flash Mob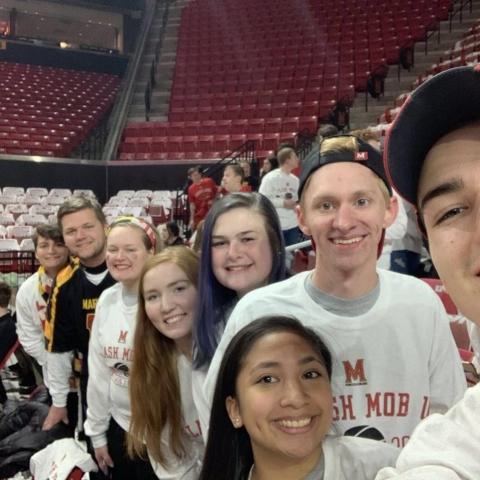 By Charlie King '22
The Alumni Association wouldn't exist without the strong community of Terps - our alumni, current students, family members, faculty and staff. Their contributions to the Alumni Blog offer unique and fresh perspectives on everything from career advice, binge-worthy TV shows and podcasts, tackling life after graduation and more.
When your campus is over 160 years old, it's next to impossible to find a tradition that hasn't been created yet. Rubbing Testudo's nose for good luck, avoiding the Point of Failure and jumping into Omicron Delta Kappa Fountain are traditions that have been a staple at Maryland for decades. But how about a newer one?
In 2013, the idea of the Basketball Flash Mob was created by Carrie Blankenship, the associate athletic director for marketing at the time, and choreographed by Megan Piluk '13 and Jen Miller '14. It is by far one of my favorite Terp traditions to participate in. My older sister and I grew up watching Maryland sports, both live and televised! And yet, it wasn't until my sister started attending Maryland in 2016 that we found out about the flash mob game!
Once I started my first year at Maryland in 2018, my sister and I made it a goal to go to as many sporting events as we could together. The past two years, we've waited in line for hours just to get into the Xfinity Center and secure our optimal might-be-on-TV seats, fully decked out in Maryland gear (see above: I'm in the black jersey and she has the Maryland flag headband!). Plenty of laughs are had as we practice and realize that it's really hard to dance in tight spaces, who knew? And of course, it's always an activity to watch the video of the flash mob once it's uploaded and look for ourselves and our friends. My sister just graduated, so this year was her last flash mob game as an undergraduate; lucky for her it was a very memorable one!
Seeing so many students unified in such a fun environment is amazing, and watching hundreds of college kids dancing tends to provide some great entertainment. So, if you're a student, an alum or just someone who loves to watch Maryland basketball, I highly recommend marking the next flash mob game on your calendar and seeing it for yourself! If you can't wait, click here to watch last year's flash mob right now.
###
The Alumni Blog connects you with the latest at UMD. Check out articles on advancing your personal and professional goals, elevating your UMD pride, and celebrating Terp traditions, legacies and accomplishments. For even more content, follow the Alumni Association on Facebook, Instagram and Twitter.