Home
About Us
News & Stories
Terp Traditions: Luck of Testudo
Terp Traditions: Luck of Testudo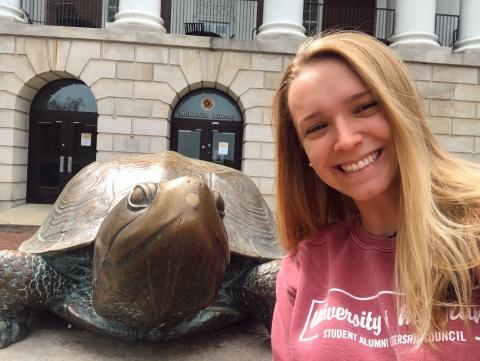 By Julia Hall '20
The Alumni Association wouldn't exist without the strong community of Terps - our alumni, current students, family members, faculty and staff. Their contributions to the Alumni Blog offer unique and fresh perspectives on everything from career advice, binge-worthy TV shows and podcasts, tackling life after graduation and more.
With each passing semester comes a plethora of projects, exams, interviews and more, resulting in stresses so great that they can only be alleviated by the one and only Testudo, our trusty mascot. Whether it be a simple rub on the nose, or a full-blown offering (particularly popular during finals week), Testudo knows how to bring us the good luck, or just the little pick-me-up, that we need.
I can remember my very first visit to Maryland as a senior in high school for the admitted student open house, during which my tour guide explained this time-honored tradition to the group. My dad chuckled, "Rubbing a nose for good luck? Seems a little ridiculous." I couldn't help but agree, yet little did I know I would be back in that very spot in just a few short months, indulging in this tradition myself. And it's not only during finals week - although this is when he tends to get the most attention - it is every single time we pass by. Now in my senior year, I can't ever walk by Testudo without giving him the attention he deserves (sometimes I even reroute my walk to class just so I can get my daily dose of luck).
The best part about our trusty Testudo statue? There are now seven on campus; which one is your favorite? Mine is definitely the one outside of the Xfinity Center because I love seeing it when I go to basketball games! While the original sits outside of Mckeldin Library, there are seven other statues spread around campus - including one in front of the Samuel Riggs IV Alumni Center. Seven spots to rub that nose, leave an offering, snap a picture and keep this wonderful tradition alive.
So next time you are on campus, stop by and visit Testudo at one of his locations. A little extra luck never hurt anyone.
###
The Alumni Blog connects you with the latest at UMD. Check out articles on advancing your personal and professional goals, elevating your UMD pride, and celebrating Terp traditions, legacies and accomplishments. For even more content, follow the Alumni Association on Facebook, Instagram and Twitter.