Home
About Us
News & Stories
Terp Traditions: Run the Steps at Maryland Stadium
Terp Traditions: Run the Steps at Maryland Stadium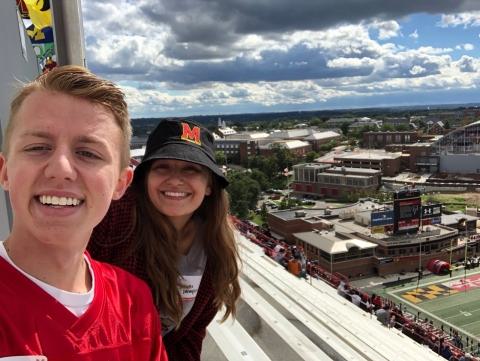 By Andrew String '21
The Alumni Association wouldn't exist without the strong community of Terps - our alumni, current students, family members, faculty and staff. Their contributions to the Alumni Blog offer unique and fresh perspectives on everything from career advice, binge-worthy TV shows and podcasts, tackling life after graduation and more.
When you drive onto campus it's hard to miss Maryland Stadium: a true UMD landmark not only for Terps in 2020, but for all Terps dating back into the early 1950's when the stadium was constructed. As I lived in Prince Frederick Hall for the past two years, I was able to see the stadium everyday as I rolled out of bed (running to my 'early' 9:30 a.m. class). Wonderful memories flood into my head and I remember my orientation tour and my first football game, but most importantly, the annual hike to the top of Maryland Stadium with my family and friends.
Inspired by an accidental conversation I had with my orientation advisor, he suggested that during a game we travel up to the top of the stadium. It was rumored that you could see the Washington Monument from there (which turns out to be true). Being the malleable first-year that I was, I decided to take that climb during the Homecoming game in 2017 and let me just say - WOW! The view of the entire campus was breathtaking, the air was crisp, and honestly it was the first time that UMD felt like home, especially considering I was an out-of-state student. Since then, every Homecoming I drag my family and friends up to the top of Maryland Stadium to share the tradition with them. Reluctant at first, I always convince them and I can tell they get the same feeling that I did on that one autumn day in 2017- some would call it Terp-tingles!
My involvement on campus ranges far and wide. I stay active as a radio show host on WMUC, as a Resident Assistant on South Campus, and currently serve as the President of the Student Alumni Leadership Council. I'm thankful that this large university allows me to meet someone new everyday. All of us, including alumni, have unique stories that define our Maryland experience. Yet, Terps across generations can all find unity in something that we collectively value: our traditions.
###
The Alumni Blog connects you with the latest at UMD. Check out articles on advancing your personal and professional goals, elevating your UMD pride, and celebrating Terp traditions, legacies and accomplishments. For even more content, follow the Alumni Association on Facebook, Instagram and Twitter.