Home
About Us
News & Stories
Terp Traditions: Unfurling the Flag
Terp Traditions: Unfurling the Flag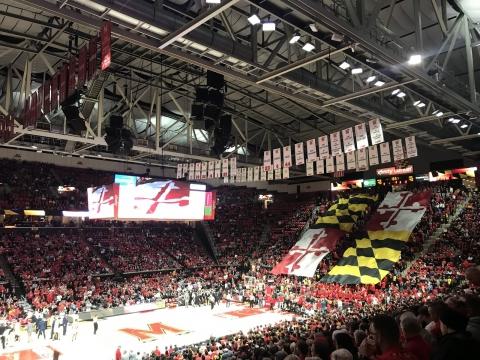 By Luke Amato '22
The Alumni Association wouldn't exist without the strong community of Terps - our alumni, current students, family members, faculty and staff. Their contributions to the Alumni Blog offer unique and fresh perspectives on everything from career advice, binge-worthy TV shows and podcasts, tackling life after graduation and more.
A couple times every year, my father gets together with his old UMD classmates. Reliving their days at Bentley's(and several drinks into the night), they tell me, "Your younger generation doesn't love UMD as much as we do." To that, I ask them, "Have you ever seen someone love a flag this much?"
I know out-of-state alumni may have something to say about this, but I like to think that Maryland has one of the best flags in the country. To Terps, the red, white, black and gold represent more than just a state, these colors represent the colors of our university. What better way to honor the flag and our colors than to make it ginormous and drop it over hundreds of eager UMD student fans at home games to the theme song of 2001: A Space Odyssey?
According to Jordan Looby, assistant athletic director at UMD, the flag unfurling was a brainchild of Carrie Blankenship, now the senior associate athletic director for external operations. Blankenship had been dreaming of a giant flag unfurling at sporting events and when the flash mob exhibited how important the student section is to the overall stadium atmosphere, she saw her chance to make this dream a reality.
The flag debuted on March 6, 2013 when the men's basketball team took on UNC. The flag unfurling was an instant hit with fans and has been done at every home men's basketball game and football game ever since, as well as some select women's basketball games and men's lacrosse games.
Alongside the flash mobs and the Turgeonites (the Coach Turgeon lookalikes who sit behind the bench) at men's basketball games, the flag unfurling over the student section is proof that this new generation of Terps has the capacity for tradition and serious passion. It also serves as the extra jolt of adrenaline we need to power through the grogginess of the under-12 timeout and keep giving 100% until the final buzzer.
###
The Alumni Blog connects you with the latest at UMD. Check out articles on advancing your personal and professional goals, elevating your UMD pride, and celebrating Terp traditions, legacies and accomplishments. For even more content, follow the Alumni Association on Facebook, Instagram and Twitter.