Home
About Us
News & Stories
Together in their Homeland
Together in their Homeland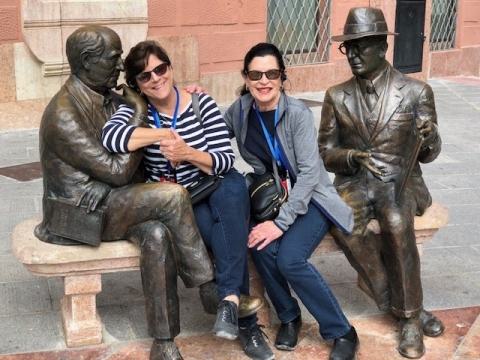 By Allison Eatough '97
This is an Italian love story.
It's not the kind you'd see on the silver screen or read about in a romance novel.
It's the kind that happens when two sisters, who have spent decades apart while building their careers, finally get the chance to travel together, visit their homeland and create a new bond.
Lisa Kavanaugh '73, M.A. '76, had always longed to visit Italy – the land of her ancestors and, arguably, some of the world's best pasta. But raising two children and working as a healthcare executive in Maine left her with little free time.
Linda Baron, Kavanaugh's sister and a former cosmetics company executive who lives in Maryland, traveled to Italy once for work but yearned to return and explore more of the country's culture.
In 2008, when a University of Maryland Alumni Association travel brochure arrived in Kavanaugh's mailbox, the pieces began to fall in place.
"I had limited time, and I wasn't really sure my sister would be interested because she has really done a lot more traveling than I have," Kavanaugh said. "Then we looked at the trips, and we said 'Whoa, these are educational and cultural…' You've got to get up early, and you are on the move. But we like that."
The sisters chose a trip to Umbria, a region in central Italy. While there, they participated in a range of activities, including hunting for mountainside truffles with a dog named Gina.
"One of the biggest highlights of the trip was when we stayed in a small town called Spoleto," Baron said. "There were probably 20 of us on the trip. Our hotel was small, but it was like we were all family. The chef would ask us what we would like for dinner, and (then) we were in the kitchen watching a woman make the pasta. The food was fantastic."
Along with the cultural activities and cuisine, Baron said she and Kavanaugh appreciated the trip's local tour guides and mix of scheduled and unscheduled time.
"It is much better to do an organized trip with a tour because the other way, you miss so much," Baron said. "You might go someplace in the morning and see all the highlights and then you have the afternoon as free time to do what you want to do."
After more than a week in Italy, the sisters reached a conclusion: This would be the first of many trips together.
Since their Umbria excursion, Kavanaugh and Baron have returned to Italy seven times. They've also traveled to Spain and Ireland.
"Initially, my older brother said, 'We don't know how those two are going to travel together… Only one of them may come back,'" Kavanaugh recalled. "It's because we're both kind of bossy. But what we found is that we just had a great time together. Now, there isn't anyone that I would rather travel with than my sister."
As a member of the Alumni Association, you, your friends and your family have access to a once-in-a-lifetime travel experience. With land, river, and cruise programs available, the opportunities to explore the world are endless. To learn more about scheduled 2021 and 2022 trips, visit the Alumni Association travel webpage.
###
The Alumni Blog connects you with the latest at UMD. Check out articles on advancing your personal and professional goals, elevating your UMD pride, and celebrating Terp traditions, legacies and accomplishments. For even more content, follow the Alumni Association on Facebook, Instagram, Twitter, LinkedIn and YouTube. Become a UMD Champion to receive monthly shareable pride points, news and more straight to your inbox.