Home
About Us
News & Stories
Top 5: At Home Workouts That Get Your Indoor-phins Flowing
Top 5: At Home Workouts That Get Your Indoor-phins Flowing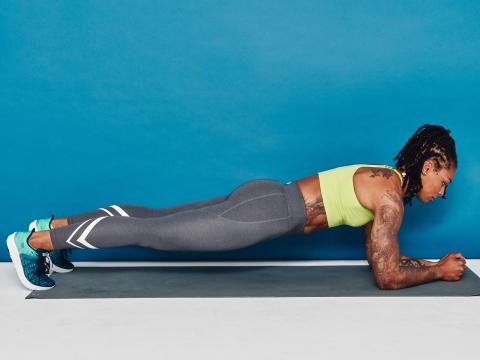 By Edom Mesfein '20
The Alumni Association wouldn't exist without the strong community of Terps - our alumni, current students, family members, faculty and staff. Their contributions to the Alumni Blog offer unique and fresh perspectives on everything from career advice, binge-worthy TV shows and podcasts, tackling life after graduation and more.
You may be trying to maintain some normalcy amidst our new lifestyle changes, I know I am. One big way we can do this, is by continuing to carve out time for our physical health and wellbeing. Exercise can improve our mental health and overall mood, while giving us the burst of energy we need to power through the day.
Here are some at home workouts that I use to keep my indoor-phins flowing. (Indoor-phins, get it?)
Full body workout with alumna @Maria_cfit
Maria was a Resident Assistant with me inLaPlata Hall, and a member of the class of 2019. When this Terp isn't busy with her day job as an engineer in Baltimore, MD, she runs a popular fitness account, @maria_cfit. She created this equipment free circuit, but to turn it up a notch she added some old textbooks as weights. Follow her account for some workout motivation!
Strength & tone yoga with SarahBethYoga
SarahBethYoga is a channel on YouTube that shares an array of guided yoga sessions. They range from 5 minute guided meditations to 30 minute intense yoga workouts. This strengthening session is a great way to start your day. Just grab a mat (or a towel) and you're ready to go. Feel free to layer the videos and craft your perfect session.
Lower-body workout with Self Magazine
Self Magazine's fitness section has dozens of workouts and apps you can try at home. Self offers workouts with little to no equipment options that can be done in the comfort of your very own living space. Amy Eisinger, M.A., C.P.T. shared this equipment-free, cardio workout - it really got my heartrate up! Be sure to peruse through all the workouts and find the right one for you.
Broomstick workout with @Fitnessunderground.us
Faith Davis, also known as @fitnessunderground.us, on Instagram, is an experienced at home workout pro. As a wife, mother and self proclaimed fitness geek she has always found creative ways to build fitness into her daily home life. I could learn a thing from her! This killer core work out can be done anywhere, as long as you have a broom in hand. Check out some more of her unique ways to use everyday items and little to no equipment to create effective workouts.
Home chest workout with @Molinagfit
Greg (@molinagfit) is a popular fitness guru who has recently created more at home content. His chest workout is composed of 5 exercises that use body weight and household items to leave you sore the next day. Greg has posts that focus on legs, core and even full body so be sure to mix and match these workouts!
I hope these 5 workouts get you on the right track to maintain a healthy lifestyle throughout this challenging time.
The Alumni Blog connects you with the latest at UMD. Check out articles on advancing your personal and professional goals, elevating your UMD pride, and celebrating Terp traditions, legacies and accomplishments. For even more content, follow the Alumni Association on Facebook, Instagram and Twitter.