Home
About Us
News & Stories
Top 5: Binge-Worthy TV Shows
Top 5: Binge-Worthy TV Shows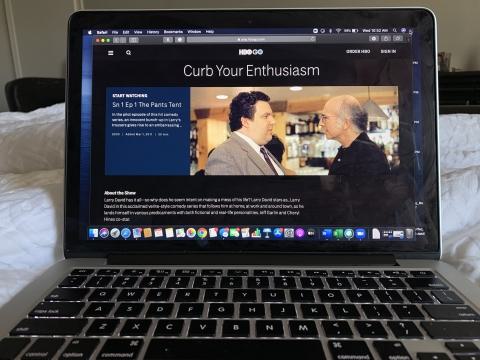 By Edom Mesfein '20
The Alumni Association wouldn't exist without the strong community of Terps - our alumni, current students, family members, faculty and staff. Their contributions to the Alumni Blog offer unique and fresh perspectives on everything from career advice, binge-worthy TV shows and podcasts, tackling life after graduation and more.
Over the past few weeks, I have had the time to watch a lot of shows, maybe even a slightly concerning amount. Watching shows that pull you into an alternate universe can serve as a much-needed escape. With countless subscription providers available I've bounced between Netflix, HBO, Hulu, and Prime Video. On each platform, I've found shows that make me cry and laugh about life, or even teach parts of history I may have not otherwise uncovered. The best feeling is when I start a show I can't stop, even if I'm watching it when I know I should be asleep. Guilty as charged! But what better time to get hooked on a series than now?
Here are five shows I flew through (don't worry these descriptions are spoiler-free):
"Curb Your Enthusiasm" on HBO
Comedian and Alumni Hall of Fame Member Larry David's '70 popular series on HBO is in its 10th season and I've watched every single episode. Growing up watching Seinfeld with my dad, this star-studded comedy has brought back some serious nostalgia as is something we love sitting down and laughing at together. If you haven't started it, there are 9 years of content to catch up on, so get started.
"Succession" on HBO
This 2018 show has two seasons out, and a third rumored to be on the way. It's identified as a comedy but it is more substantive than just humor. It follows a family of adult siblings and in-laws as they scramble for the power of their father's company once he announces that he intends to retire. There's a lot of twists and turns as the family members not only clash but deal with their obstacles. Both seasons are worth the watch, let's tune in and see where HBO goes with their latest hit series.
"Modern Love" on Prime Video
This show reminds me a bit of "Valentine's Day"(coincidentally, both star Anne Hathaway). The Amazon original series has eight episodes that follow several different modern-day love stories. Each story pulled at my heartstrings in a unique way, by introducing and developing completely new characters with each episode. I can't wait to see what they do with these stories in the coming season. Every person I have recommended this show has found a love story that resonates with them. Find yours.
"Hillary" on Hulu
This short docu-series will give "Tiger King" a run for its money. "Hillary" covers the unseen moments of Hillary Clinton's 2016 presidential campaign, while sharing intimate insight on the previous chapters of her life. Regardless of your political views or affiliation, this show is a must-see about a woman that will be noted in the history books to come.
"You" on Netflix
If you haven't given this show a chance since it premiered in 2018, then you are doing yourself a disservice. "You" pushes the boundaries of what we think anyone would be willing to do in the name of love. This romantic thriller highlights some of the very real fears in our use of social media platforms and how accessible we are through the things we post. Season two took so many unexpected turns and left me and many others begging for season three.
Hopefully one of these shows is on a platform that is accessible to you. For any current students, your HBO access will continue until you no longer have an on-campus address, so binge while you can! Grab some snacks, a blanket, whatever you need to camp out in front of a screen and start watching some of these captivating shows.
###
The Alumni Blog connects you with the latest at UMD. Check out articles on advancing your personal and professional goals, elevating your UMD pride, and celebrating Terp traditions, legacies and accomplishments. For even more content, follow the Alumni Association on Facebook, Instagram and Twitter.